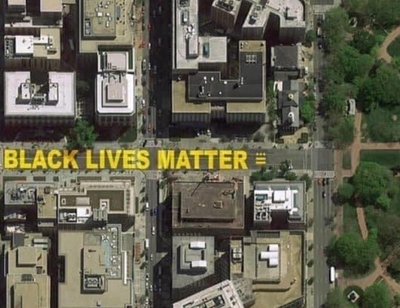 Sunday, June 7, 2020. Steps from an embattled White House, the yellow road paint that spells out BLACK LIVES MATTER in 50-foot letters was scarce dry. In cities across America and around the world, marchers were lifting their voices. And at Manao 91.7 FM on Maui, as best we could, we were celebrating George Floyd, Ahmaud Arbery, Breonna Taylor, and numberless others before them lost to white supremacists. Rather than the usual potpourri of new releases with our signature off-the-cuff comments and occasional personal reminiscences, our special edition of Catch of the Day showcased African American artists along with some special non-American guests of African descent. If only there had been time for dozens upon dozens more.
Given the issues of cultural appropriation surrounding Porgy and Bess, it may seem strange not only to have included it in the first place but to have taken three bites of the apple, from as many recordings. The reason is simple. For generations, the Gershwin score has catapulted black talent to lasting careers in opera and musical theater. That's unlikely to change. Doesn't everybody still love the songs?I wish I could also have located a copy of Scott Joplin's Treemonisha. Next time.
Regulars who follow this site may have noticed that we've been away. In fact, C-19 forced us to skip two whole months' worth of shows. When we came back, restrictions at the studio required me to Zoom or Skype in while my senior co-host Paul Janes-Brown held the fort in Wailuku. NPR has such arrangements down to a science, but for us, the challenges were formidable and the results subpar. The mix was of interest, though. Watch this space for overdue recaps of our March 1 and May 31 editions, to be posted soon.
And now, for the #BLM playlist
The Gershwins' Porgy and Bess (PS Classics)
· Gone, Gone, Gone
· My Man's Gone Now
From the cast album of the show's latest Broadway revival. The soloist is the remarkable Bryonha Marie Parham as the mourning Serena.
*
Dorothy Maynor, soprano (Great Performances from the Library of Congress, vol. 24) (Bridge)
· O Sleep, Why Dost Thou Leave Me (Handel)
The text tells of yearning, but the melody unfolds with celestial serenity, a quality the soprano supplies in abundance. Too little remembered today, she was the Methodist minister's daughter, and later the Presbyterian pastor's wife, who just so happened to be the first African American to sing at a presidential inauguration (Harry S. Truman's, in 1949) and then to sing at the next one (Dwight D. Eisenhower's, in 1953). What was more, she founded the Harlem School of the Arts and was the first African American to serve on the Metropolitan Opera's board of directors.
*
HONOR! A Celebration of the African American Cultural Legacy (Decca)
· Mood Indigo (Duke Ellington, Irving Mills, Barney Bigard
Coleman Hawkins & Duke Ellington
What to know what mellow is? Spin this track. The late, lamented Jessye Norman, who curated the eclectic HONOR! Event for Carnegie Hall a decade ago, certainly knew what she was about.
*
Audra McDonald: Way Back to Paradise (Nonesuch)
· Daybreak in Alabama (Ricky Ian Gordon, Langston Hughes)
At the dawn of her phenomenal acting, singing, and recording career, McDonald breathes sunshine into nostalgic lines by a leader of the Harlem Renaissance.
*
Dizzy Gillespie "Groovin' High" (Original recordings 1942-1949) (Naxos Jazz Legends 2001)
· In the land of Oo-Bla-Dee
Dizzy, yes, and irresistible.
*
Porgy and Bess (Decca)
· Buzzard song
Willard White, Cleveland Orchestra and Chorus, Lorin Maazel
The textual history of Porgy and Bess is a scholar's nightmare. In 1979, Decca released what was said to be the first truly complete recording. As Porgy, the Jamaican bass Willard White, whose operatic repertoire has ranged from Monteverdi to Benjamin Britten by way of Verdi, Wagner, Debussy, Mussorgsky, Puccini, Stravinsky, and Bartók, gave a towering performance. For thoughtful listeners, crosscurrents of hope and foreboding make this episode Porgy's most revealing moment.
*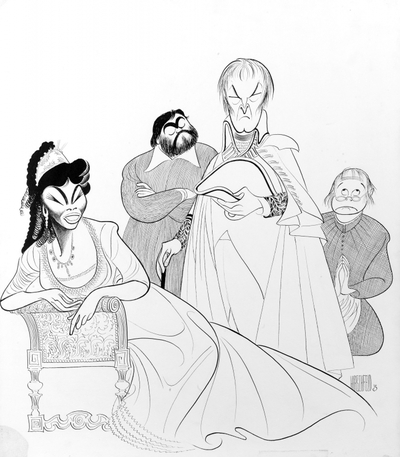 A Tosca for the ages: Shirley Verrett with her costars Luciano Pavarotti (in peak form), Cornell MacNeil, and Fernando Corena, captured by the vivid pen of Al Hirschfeld in the New York Times.

Shirley Verrett In Opera (RCA Victor)
· Lasciatelo ch'ei vada; Rataplan (Verdi, La Forza del destino)
RCA Italiana Opera Orchestra, Thomas Schippers (recorded in 1964)
Days before our show, the Metropolitan Opera dipped into the archives to share the classic Tosca telecast of 1978, which was one for the ages. Previewing the stream for AIR MAIL, I had this to say; "Tragic grandeur, innate majesty, a mercurial temperament touched with kittenish innocence--all this plus her smoldering vocalism: these were qualities Shirley Verrett, herself a diva to her fingertips, brought to the title role of Puccini's Tosca, a diva undone by the very gifts the make men adore her." To this I can now add that her solo bow at the end--gracious, jubilant, blithe, yet proud--was just the cherry on the cake. (I rewound three times.) Here we catch Verrett as the shady camp follower Preziosilla in La Forza del Destino, whose call to glory lend a dash of brilliance to Verdi's gloomiest tapestry.
*
Sheku Kanneh-Mason: Elgar (Decca 2020)
· Elgar: Nimrod
Sir Simon Rattle, London Symphony Orchestra
The youthful star cellist leaped to the world's attention at Harry and Meghan's wedding.
In case that shindig passed you by, this haunting track should clarify why we're sure to be hearing lots more from him.
*
Baroque Duet: Kathleen Battle/Wynton Marsalis (Sony 1992)
· Handel: Let the Bright Seraphim
Anthony Newman, Orchestra of St. Luke's, John Nelson
Kathy a, Wynton, and Handel: a match made in heaven.
*
Fats Waller and His Rhythm: The Last Years 1940-1943 (Bluebird 1989)
· 'Taint nobody's bizness if I do
Right on!
*
Porgy and Bess (Decca Heritage Masterworks)
· Ha-da-da, Ha-da-da
· It ain't necessarily so
Avon Long, Lehman Engel (conductor)
From the first studio recording (1951), Avon Long's wily rendition of a surefire showstopper. The things that you're liable to read in the Bible...
*
Eartha Kitt Greatest Hits: Purr-fect (7N/BMG)
· Lilac Wine
I first heard this ravishing song at Café Carlyle in New York, seated alone at a ringside table at one of Kitt's very last engagements. One of the other songs on her list that night was "I Can't Give You Anything But Love," and as she approached the final cadence, she oozed over my way, dropped into a hoarse, intimate whisper, locked eyes with me, and waited as long as it took—forever!—for me to fill in the final syllable. And then, sweetly, quietly, she thanks me. I haven't forgotten
,
*
Kiss Me, Kate (DRG 2000)
· Were thine that special face
Brian Stokes Mitchell
"Stokes," as the Broadway crowd calls him, was sitting ringside, too, that night at the Carlyle. He was still hanging around with friends when I started for the door, but he reached for my hand as a passed and said, "That wasn't easy. What you did was very nice." Haven't forgotten that either—or his turn in Kiss Me, Kate, especially the moment when he and the trumpeter in the pit band did this song, raising the whole house into mid air.
*
Show Boat (Quality Music/Livent)
· Bill
Lonette McKee
Maybe not the best-known rendition of this magnificent song, but one that takes second place to none. I saw McKee twice: in the revival of Show Boat documented on this album, and off Broadway as Billie Holiday in Lady Day at Emerson's Bar and Grill, a searing performance.
*
Paul Robeson: Songs for Free Men 1940-45 (Pearl)
· Joe Hill
Arpad Sandor, piano
The anthem of the labor movement, sounded by a voice put on earth to awaken the very best of our better angels.
*
Bessie Smith, Vol. 2, "St . Louis Blues, Original 1924-25 Recordings" (Naxos Blues Legends 2003)
· I Ain't Goin' To Play No Second Fiddle
With Louis Armstrong
Amen to that.