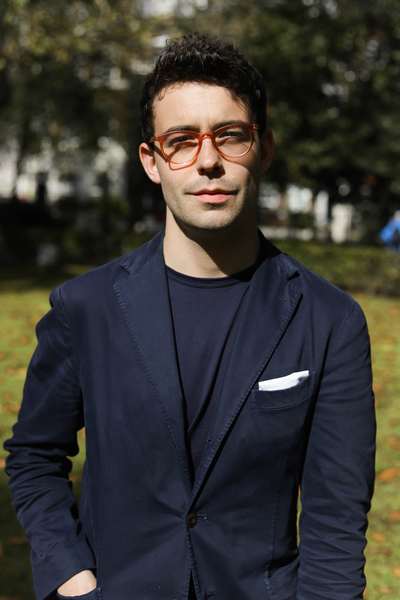 Lorenzo Brewer. "Growing up, academic brats like me are just exposed to so many ideas, often radical ideas, all the time. Synthesizing them into a new whole is something I try to do every day. The whole nkoda project comes out of that." © Anna Swords
In December, Lorenzo Brewer made Musical America's list of 30 Professionals of the Year, a cohort defined as "Innovators, Independent Thinkers, and Entrepreneurs." As founder and CEO of nkoda, which some have called a Netflix and/or Spotify for music scores, Brewer scored on all three vectors. He was, at the time, all of 23 years old.
The facts and figures of nkoda stagger the imagination. Musical America cited a knowledge base of 35 million pages of music, licensed from 50 of the world's leading music publishers, free and clear to subscribers for study, sharing, and annotation at the fire-sale rate of $9.99 a month. The catalogue includes masses of contemporary materials that used to be very hard to get. "They were expensive, they were exclusive, and they weren't available to people," Brewer has said, citing as textbook cases Arvo Pärt and György Ligeti. Since December, the nkoda universe has only kept expanding, but who's counting? In house, I suppose someone must be; in the real world, who can keep up? These numbers are galactic.
At one level, you could say nkoda has been spreading like wildfire. Launched little more than a year ago, the app is now available in 11 languages. It has been downloaded in 135 countries, and the subscriber base is approaching six figures. At another level, that's all a drop in the bucket. Brewer positions nkoda as a "resource for the 100 million people on this planet who play, practice, and perform music."
It follows, or it ought to, that the Pavlovian analogies miss the mark pretty much entirely. In the universe of distribution channels like Netflix, Spotify, Kindle Unlimited, Amazon Music, and the niche competition, you're a statistic and catered to as a statistic. Whereas in a research library, you're unique, you're an explorer, bushwhacking your way through landscapes on pathways no algorithm can predict. The active, open-ended search—not the passive swipe left or right—is the experience nkoda exists to make possible.
The more I found out about nkoda, the more intrigued I was to get to know the personality whose stamp it bears. By a stroke of fortune that may be a story for another day, the opportunity came my way. A wide-ranging conversation ensued, extending, by telephone and email, over several weeks. Excerpts are strung together below to mimic the regulation Q-&-A we never had.
*
Q - How did music take over your life?
A - My earliest memory is of hearing the theme for the Jim Jarmush film Night on Earth. And it was all about the sensation of being fascinated by that sound. How is it made, what is it, why does it exist, and how can I make it myself? My whole way of thinking completely focused on the aural. My head is full of sound—music and words that form full grammatical or musical sentences. In that sense, I'm not just someone who has been a musician. Sound is really the way that I think.
Are you a musician yourself?
Yes, though my focus was always on writing, rather than playing. There wasn't a huge amount of music in my family. I gravitated towards music because it was a space that I could make mine. In my early teens I started listening to music with a vengeance, playing and then eventually writing.
My composition teacher Raymond Yiu owns some 5,000 scores he collected over 25 years. His collecting was a hoarding of knowledge, not books. From understanding you can make something new. I guess in some ways nkoda is also a tribute to him. I hope that we are giving people some of that same opportunity he gave me to find, learn, practice, and play things that otherwise would never be available.
I've heard people whose parents were in the military and moved around a lot call themselves "army brats." From the little I've been able to find out, your background seems like the academic counterpart. How do you feel that life might have shaped you?
I guess it is the thing that shapes you. When you move around as much as my family did, living in different cities, countries, and continents with different languages, it makes you think more holistically about how you approach things. You lose your fear of the unknown.
Academic brats like me are just exposed to so many ideas all the time; often they are radical ones too. Thinking clearly about ideas, synthesizing them into something which is digestible, logical, meaningful; taking disparate pieces of information and remodeling them into a new whole—these are crucial things I learned that I use every day. The whole nkoda project comes out of that, the synthesis of an idea that has behind it a set of more complicated concepts—access, distribution, learning, culture and so on.
Can you think of other factors that played into the creation of nkoda?
I didn't know this when I founded nkoda, but it's not the first time someone in my family has done something like this. A many-great grandfather of mine, Charles Edward Mudie, ran a subscription library here in London. The Mudie Library circulated novels and non-fiction to a new and much wider audience. He bought 500 copies of The Origin of Species and was Darwin's principal library source. Without my even knowing this, our last office was a two-minute walk from where the Mudie subscription library used to be.
How do you envision people using nkoda?
For people who are already professionals or who work in and around music, the platform is a resource that allows them access to their materials quickly. For teachers, it gives access to a broader repertoire and can introduce their pupils and students to a wider variety of works and composers than they have ever done before.
For young people who are exploring music, learning, analyzing and composing for the first time, I hope nkoda is their companion in discovery and creation. Something that means that they feel there are no limits to what is possible, and what they can make.
What was easy in launching the huge project of nkoda? What was hard? How important was serendipity?
I've come to think that startups are built on a series of accidents. nkoda wouldn't exist without our amazing CTO, Sundar Venkitachalam. I met him through Nik Silver who was ex head of technology at the Guardian newspaper. We met, clicked, and started working together. Somehow, nkoda attracts people. The idea has a magnetism. The concept is simple, and the potential outcome is tangible. It was easy to imagine a world in which nkoda existed, even before we built it.
Building and growing a startup is a process of creating and then rationalizing chaos. This means that you have people who come and go, who are more or less appropriate for the company in the different phases of its evolution and growth. That's hard: knowing that people aren't right for the company anymore and taking the decision that it's best to part ways—often when they are much older and more experienced than you.
The rest is mostly grind. You just work very, very hard intellectually, emotionally, and physically towards a goal and make incremental progress towards the things that you hope to achieve week on week.
How big is the staff? How big a machine does it take to run this monster?
It's funny you call it a monster—it absolutely is. There are around 40 of us here in the London office and around 20 more working remotely, mostly on the technology side. We have servers all over the world delivering content. There's a huge amount of maintenance that goes into it all.
I'm sure the monster will keep growing.
The nkoda site features a far-ranging interview with the mezzo-soprano Joyce DiDonato. She has quite a bit to say about how she has been using nkoda in preparing Schubert's Winterreise, a major addition to her repertoire and an unconventional one. In December, she'll be performing the cycle at Carnegie Hall. How did she come to be nkoda's poster child?
Joyce DiDonato's Winterreise is a project I'm proud of and that is very important to me. I met Joyce in December 2017, six months before we launched the app. I showed her what we were doing and what we'd been working on, and she immediately got it. Joyce was the first artist who had faith in the idea and in what we were trying to do. She's been generous with her time and energy because she believed in our vision—I will always owe her a debt for this generosity.
To have this extraordinary artist using nkoda to learn one of the most iconic pieces of vocal music in history—it's surreal. To speak to her afterwards and realize that she had found ways of using the app that had affected her work was even more amazing.
She speaks, among other things, of marking up her Schubert score in layers. How do you mark up a score in nkoda?
nkoda is on all kinds of different platforms—tablets, phones and PCs. Annotating is mostly done by gesture, drawing on the screen of your device, with a stylus, your finger, or a mouse. A big challenge for us has been trying to develop a system that feels as natural as paper, while providing the musician with some obvious other benefits. In our case these benefits are things like layers of annotations or the ability to highlight rental materials (something many orchestras musicians have always wished they could do!)
DiDonato envisions future interpreters of Winterreise comparing annotations of musicians at work today, artists like Alice Coote and Gerald Finley. Are you actively looking to develop a kind of reference archive or "master class" series of annotated scores for study?
It's an interesting question, and hopefully yes. Principally, I think of nkoda as a library. By that I mean: nkoda was conceived as a space for active consumption, a place for you to go and learn, practice, play, perform as well as arrange, assemble, and collect your music.
I hope that over time we will be able to have whole courses on the app. These might be things like Joyce's annotations for Winterreise, which I'm sure will change how a whole generation of students will learn that piece, or orchestration courses, ways of learning harmony and counterpoint and more. A professor can assemble and then share all the materials for any one course, or a teacher can get together everything her pupil might need–all in one place and for more than one student. No more lost or forgotten music, no more excuses about not being able to find it either....
Is there any thought of expanding into manuscript scores or out-of-print scores?
This is something that we'd love to do and have thought about for a long time—but it's a complicated process which involves many moving parts and relationships, for us with the archival sources and then also with our publishers. We'll keep working on it though, I promise.
What's your deal with publishers?
The way we license music from our publishing partners is an agreement for all the content in their catalogue. This means their scores, chambers parts, orchestras and rental materials as well as their educational catalogue. We pay a proportion of all of our revenue back to publishers as part of the split of the subscription.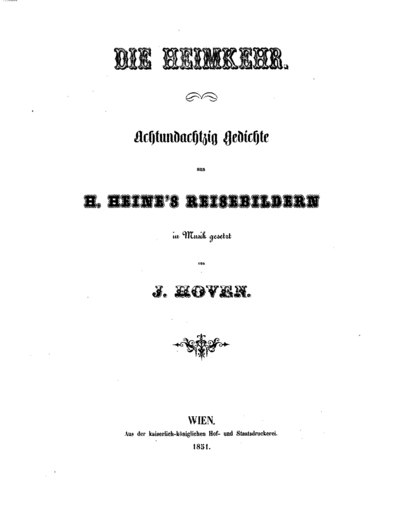 The first score I happened to do a search for on nkoda is a huge song cycle called Die Heimkehr/Achtundachtzig Gedichte aus H. Heine's Reisebildern, by Schubert's contemporary and associate Johann Vesque von Püttlingen, pen name J. Hoven. I'm aware of one recording, by the tenor Markus Schäfer with Christian de Bruyn at the piano, and a few selections in Songs by Schubert's Friends and Contemporaries, the appendix to Graham Johnson's indispensable Hyperion Schubert Edition. I couldn't find the sheet music in your database. Does nkoda ever add individual requested items?
Lots of publishers have materials which have been out of print for some time that haven't been scanned or digitalized, so sometimes we have to ask for a work specifically to make sure it gets onto the platform. I'll make sure to check.
How much time do you spend listening to music live and electronically?
In the past 18 months, I haven't been able to spend nearly as much time as I'd like listening to music. For me that means probably an hour a day. I tend not to listen to music when I work—I can't help but be distracted.
In the past, a huge amount of my listening was electronic. I'd say 95% of my musical education comes from recordings. I'm born in 1995, and when I was 13 or 14, Spotify launched here in the UK. My mother bought me an account. I started going through perhaps 5 or 6 hours of music a day, sometimes more. You could start listening to film music and become interested in Arvo Pärt, and end up listening to Giacinto Scelsi—and I did. In my 24 years, I have listened to hours and hours of more different music than Beethoven did in his entire lifetime. Mad.
Coda: a trio of postscripts
A shoestring operation? – It would take a more knowledgeable analyst than this one to parse nkoda's financials. According to Brewer, the company is capitalized at 6 ½ to 10 million pounds sterling (approximately 10 to 12 million dollars), raised from some 100 investors.
"Sharing" intellectual property – Is nkoda the only game in town for score readers of voracious appetite? It is not. For one thing, there's the International Music Score Library Project or Petrucci Music Library (imslp.org), founded in 2006 as an online source for materials in the public domain, which, generally speaking, would exclude the most up-to-date materials reflecting the latest scholarship. As of August 2019, Petrucci claimed holdings of 145,000 titles, supposedly uploaded from vintage editions by legions of enthusiasts. But how rigorously do zealous volunteers comply with copyright protections? Surely to no one's surprise, there are those who scan first and ask questions later. For study in the privacy of one's personal cyberspace, such piracies may pass under the radar. For performers with public performances in mind, it can cause real trouble.
A view from the trenches – For an assessment of the service from the perspective of a discriminating music professional, see the review by the composer, trumpeter, and teacher of composition David MacDonald on scoringnotes.com.