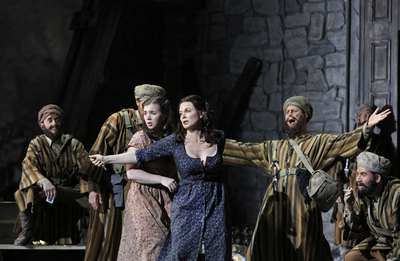 Trouble brewing: Anna Caterina Antonacci's Cesira attempts to shield Sarah Shafer's Rosetta from roving Morroccan goons. ©Cory Weaver/San Francisco Opera
For newsworthiness, it was the San Francisco Opera's world premiere of Marco Tutino's
Two Women
on Saturday, June 13, that had the critics most on their mettle. (The expanded press list that night ran to some 90 names.)
Over four decades, the company's general director David Gockley, formerly of Houston Grand Opera, has made an international name for himself by commissioning three-dozen-plus new works, including such durable entries as Nixon in China, by John Adams, and Little Women, by Mark Adamo. The coming season will be his last.
At this autumnal juncture, Gockley felt moved to take a page from impresarios of a hundred years ago, when the Metropolitan Opera unveiled first Puccini's La Fanciulla del West (1910) and the three one-acts forming his Il Trittico (1928). Of the thirty-odd works premiered at the Met, only Puccini's have gained currency. At a guess, nothing in Two Women would have shocked Puccini, had the score reached him before his death in 1924; though much might have struck him as old hat (or, in a friendlier mood, as homage). At a guess, he might have suggested Tutino lower the temperature once in a while; far too much of the music proceeds at relentless fever pitch.
Based on Alberto Moravia's novel La Ciociara, is heart-on-sleeve Italian grand opera in a frankly retro style, redolent also of Mascagni and Leoncavallo. The libretto, by Tutino in tandem with Fabio Ceresa, draws on a script by Luca Rossi. (For reasons probably best known to intellectual-property lawyers, the creators have gone out of their way to disavow any connection to Vittorio De Sica's neorealist film classic, which won Sophia Loren the first Oscar for best actress ever awarded for a performance in a foreign language.)
Set during World War II, the story concerns the shopkeeper Cesira, who leaves bomb-ravaged Rome for the mountains of her childhood, hoping to find a safe haven for her daughter Rosetta. Life is hard there, too. Every so often, Central Casting sends in a stock figure to keep things moving: an intellectual on the side of the angels, an American pilot on the run, Chief of Police Baron Scarpia's Nazi twin, and finally a merry gang of roving Moroccan goons, who rape Cesira and Rosetta in a church. At the final curtain, the war is over, leaving mother and daughter to pick up the pieces.
One thing that especially struck me on first hearing is Tutino's skill—okay, let's say genius—for collage. Listeners were still settling in their seats when the tangy Latvian mezzo soprano Zanda Švēde, stationed in a box, launched into authentic Roman song; the opening scene incorporated two more, sung offstage to atmospheric effect (shades of Turridu's siciliana at the start of Cavalleria rusticana or the shepherd's offstage ditty in the third act of Tosca). A sort of leitmotif that starts weaving through the score in the prelude emerges in the final scene as "La strada nel bosco," a pop song from the 1940s idiomatically rendered here by the Neapolitan-born tenor Pasquale Esposito. But the heart of the score is the lullaby Cesira sings to a catatonic Rosetta after the rape. The text, we are told, is traditional, the music Tutino's; Anna Caterina Antonacci, for whom the role of Cesira was written, has likened the half-spoken, half-melodic arioso to Monteverdi, to whose music she has shown a profound affinity. If only.
Stylistically, Il Trittico kept coming to mind. The opening scene in Rome incorporates sounds of the city in the manner of Il Tabarro. Ethereal passages for the fragile Rosetta recall the convent atmosphere (though not the anguished heroine herself) of Suor Angelica. A macabre interlude involving a lawyer who is the willing tool of the Nazis and his doting mama who plies the Nazi kingpin with treats from her kitchen, mimics to jarring effect the manic farce of Gianni Schicchi. In the dialogue, I caught a quotation from Turandot ("Basta sangue"- Enough bloodshed) an allusion to Pagliacci ("Lo spettacolo è finito" – The show is over), but probably missed other verbal echoes. Sprawling symphonic intermezzi served as reminders of shapely intermezzi from the standard repertoire (Puccini's in Manon Lescaut, Mascagni's in Cavalleria rusticana).
Elective Affinities! Name That Source! Great games, but after a while, you start craving something—anything—first-hand, something that engages not for what it reminds you of but for what it is. Apart from that lullaby of Cesira's, two moments caught me off guard that way. The first fell midway through the first act, after Cesira and Rosetta have arrived in their mountain village. Facing a stony reception from the locals, Cesira quietly changes tack, coolly appraising a battered chair she may not need and closing a deal on it at a price it's not worth. The second came at the victory dance in the final scene, as the violated Rosetta wafted in and out of the arms of strange men in some erotic limbo between cluelessness and nymphomania. Sarah Shafer's limpid soprano, ideally suited to Rosetta's terrified, childlike soul, was at its most haunting here.
Antonacci is one of the supreme singing actresses of our time, but the triumph one would have wished her would have required music of more distinctive character. It not that Cesira's role lacks incident. We meet her at her counter in Rome, wringing top lira out of limp produce with the zest of Brecht's profiteering Mother Courage. Moments later, during an air raid that brings her shelves crashing down, a Fascist brute of her acquaintance forces himself on her, nasty business she brushes off as incidental. When her chance comes for revenge, she lets it pass. A heroine so beset, so resourceful, and ultimately so great of heart needs vocal phrases and gestures etched in blood—lines listeners can imagine, even on first hearing, that they will never forget. To these ears, not even Cesira's lullaby passed this test.
But maybe it is too soon to say. The next stop for the production is Turin in 2018, where it may fare better. Be it said, though, that San Francisco gave Two Women got a four-star send-off. In Nicola Luisotti's hands, the twists and turns of Tutino's orchestral and choral writing came off without a hitch, while Francesca Zambello's production deployed wartime newsreels with live action in solid sets to construct a robust theatrical simulacrum of classic cinematic neorealism. You will rejoice to hear that the costume shop recreated the herding shoes (ciocie) worn by the mountaineers of Ciociaria, the Italian landscape from which Moravia's book takes its title.