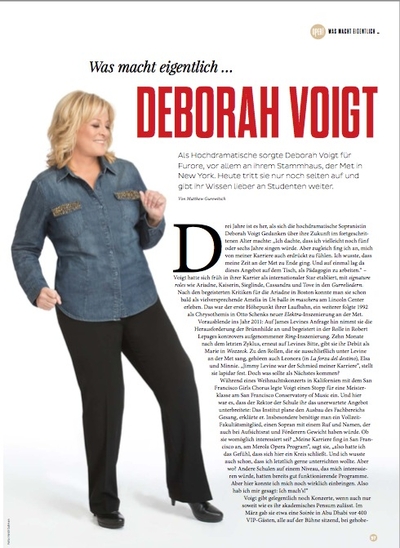 Three years ago, the dramatic soprano Deborah Voigt was contemplating her future. "I thought I might continue singing for another five or six years," she recalls, speaking by mobile phone as she cruises down the California coast on scenic Highway 101. "But I was beginning to feel overwhelmed by my career. I knew my time at the Met was coming to an end. And suddenly, here was this offer."
Though Voigt took her place quickly as an international star in signature roles like Ariadne, the Kaiserin, Sieglinde, the Cassandre of Berlioz, and Tove in Gurrelieder, it remains a point of pride with her that she trained and made her name in America. Soon after the glowing reports of an early Ariadne auf Naxos in Boston, she arrived at Lincoln Center as a promising Amelia in Un ballo in maschera. Her coronation promptly followed with her Chrysothemis in Otto Schenk's new production of Elektra in 1992. Flash forward to 2011, when at the request of James Levine, she took on the supreme challenge of Brünnhilde, dominating the controversial Robert Lepage Ring in its first two seasons. Ten months after her final cycle, again at Levine's request, she made her role debut as Marie, in Wozzeck. Other parts she sang exclusively at Levine's Met include Leonora (in Forza del Destino) and Elsa. "Jimmy Levine made my career," she says simply.
But what would come next?
While in California for a Christmas concert with the San Francisco Girls Chorus, Voigt had stopped in at the San Francisco Conservatory of Music for a master class. Afterwards, the president made her an unexpected proposal. The school wanted to build up its vocal department, he explained. In particular, they needed a full-time faculty member, a soprano whose name would carry weight with their board and patrons. Would she be interested?
"My career began in San Francisco, at the Merola Opera Program," she says, "so in that sense I felt I'd be coming full circle. And I knew that ultimately, I'd want to teach. But where? Other schools at a level that would interest me already had well-oiled programs. Maybe here I could make a difference. I didn't think the opportunity would come when it did. So I prayed and decided, 'Let's do it!'" She still concertizes occasionally, but only as her academic schedule allows. In March, she gave a closed soirée in Abu Dhabi for perhaps 400 VIP's all seated onstage, with the curtain up and the empty auditorium behind her. "I was singing to the back wall," Voigt notes. "To this Wagnerian, that's not very comfortable."
Back home in San Francisco, her work is never done. "Without doubt, the most misunderstood thing about singing is how to support your voice. You must use your entire body, not just work from belly button up. The problem is that students listen to themselves so much. They record everything and listen at home. But listening isn't the same as feeling what's happening in the moment. I'll stop students when they do something right and ask them what they're feeling. Typically, they'll describe an emotion. 'It's freer,' they'll say, 'Good,' I say, 'but what was going on in your body?' You have to sing by sensation. What you hear will change from hall to hall. And what you hear isn't what we hear. You have to take a leap of faith! You need to trust. It was hard for me too."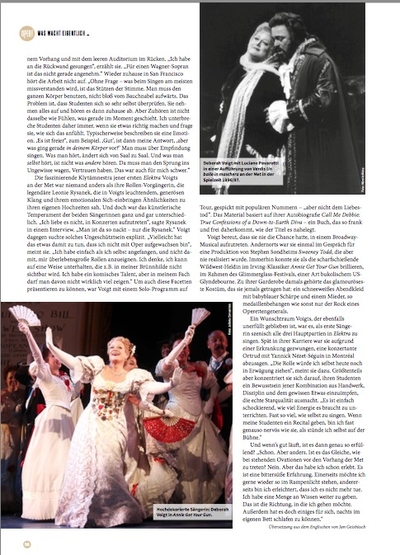 The spell-binding Klytämnestra of Voigt's first Met run of Elektra was none other than Leonie Rysanek. Herself a former Chrysothemis of huge renown, the living legend sensed in Voigt's gleaming, unstinting, and generous tone and emotional involvement resemblances to her glory days decades before. Yet the two ladies' artistic temperaments were strikingly different.
"I don't like appearing in concert," Rysanek said in an interview at the time. "You're so naked, just la Rysanek." Voigt, on the other hand, hungered for such exposure. "Maybe it comes from not having grown up around opera," she says. "I started out being myself, not trying to inhabit larger-than-life roles. I think I'm entertaining in ways you won't see in my Brünnhilde. I think I have a good sense of comedy, but you're not really allowed much of that in my Fach." To put those facets of her personality on view, she has toured a one-woman show, studded with popular songs "but not the Liebestod." The material is based on her autobiography Call Me Debbie: Confessions of a Down-to-Earth Diva, a book every bit as frank as its title suggests.
Voigt regrets never having had a chance to star in a Broadway musical. Elsewhere, she was once in discussion for a production of Stephen Sondheim's Sweeney Todd that never got off the ground. But at Glimmerglass Opera, a sort of bucolic American Glyndebourne, she got to sparkle as the sharp-shooting heroine of Buffalo Bill's Wild West show in Irving's vintage hit Annie Get Your Gun. Her wardrobe that time included her most glamorous costume ever: a snow-white ball gown with a baby-blue sash and a bodice as encrusted in medals as the dress coat of some operetta general.
Another fantasy of Voigt's that has gone unfulfilled was to be the first artist to sing all three principal roles in Elektra in the theater. (Rysanek's only Elektra was filmed in a studio.) Late in the game, illness forced Voigt to cancel an Ortrud in concert with Yannick Nézet-Séguin in Montréal. "There is a role I'd consider even now," she notes. But mostly, her mind is on her responsibility to instill in her students a recognition of the combined craft, discipline, and personal sacrifice a career in opera--to say nothing of true stardom--will entail.
"It's shocking how much energy it takes to teach," she says. "Almost as much as singing! When my students do a recital, I'm almost as nervous for them as I am when I'm singing myself."
When they do well, is it also as rewarding?
"It is, but it's different. Is it the same as stepping in front of the Met curtain for a standing ovation? No. But I've done that. I've had that experience. It's a bittersweet time. On the one hand would like to be center stage in that spotlight again, and on the other I'm sort of relieved that I'm not. I have a lot of knowledge to pass on. That's where I'm headed. There's something to be said for sleeping in your own bed at night."