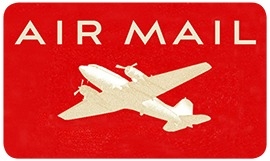 When life as you've known it flies off the rails, it's time to impose new structure. In January, Laura Jacobs, my editor at Air Mail, came up with a project that has been keeping me on my toes all year. Yes, the lively arts were in lockdown. Yes, travel was all but impossible. Yet online, opera was making quite a comeback. Free streams nightly from the Met. Major new productions from Europe, beamed out from from empty auditoriums. Experimental novelties proliferating on Zoom. So, said Laura, how about a virtual Pick of the Week? Short takes, please! But each informed by a lifetime's impassioned engagement with the art.
We kicked off with the rococo extravaganza Titon et L'Aurore as directed and designed by the renowned puppet master Basil Twist in peak imaginative form. We explored archival video, from Deborah Voigt's never-before-released breakout Ariadne auf Naxos to the long-lost original telecast of Amahl and the Night Visitors. We dropped in on world premieres of instant classics: Le Soulier de Satin, an epic of salvation set in the Age of Discovery; the mixed-race family saga The Time of Our Singing; and Les Éclairs, an electric fantasia on the visionary Nikola Tesla.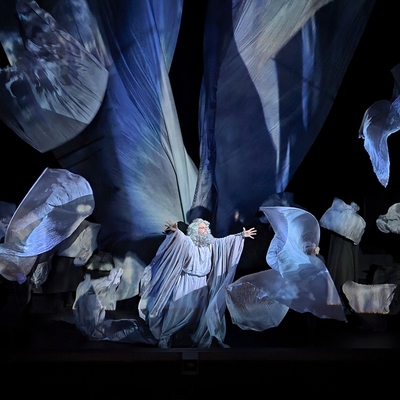 Marc Mauillon, assisted by an unseen small army, whips up a storm as Aeolus, god of the winds, in Titon et l'Aurore
What else? Let's see... Vintage Verdi from La Scala, led by the incomparable Riccardo Muti. Stravinsky's
Oedipus Rex
in shadowplay, followed by Enescu's shamanic
Œdipe.
An animated graphic novel (
Everest
) and the first operatic miniseries (
Desert In
), not to mention a 60-minute drive-through reduction of
Götterdämmerung...
(
Click here to browse further
. You'll might hit a paywall at some point, but hey! Subscriptions are priced to sell, and my stuff is just the tip of the iceberg.)
One contender for MVP of our season would have to be Michael Spyres, an American on steady call for florid, high-flying tenor roles few dare attempt, like the heroes of Gounod's Gothic corker La Nonne Sanglante and Adam's melodious sitcom Le Postillon de Lonjumeau. White elephants, you might think, but with Spyres on the job, they take flight. Both were shoo-ins for my series. The latest recital album from Spyres, the provocative Baritenor, made the cut, too—the lone CD (though not the lone recital) thus singled out. As teasers for my chronicle of great performances for home consumption, plus as a tribute to an ebullient artist, here are the three Spyres posts. Note: As of January 2022, drama will be coming into the mix, beginning with an all-male Twelfth Night from Shakespeare's Globe, led by Mark Rylance as a prize-winning Olivia for the ages.
*
If you liked The Bride of Frankenstein, you'll love Charles Gounod's Gothic thriller La Nonne Sanglante (October 14, 2021)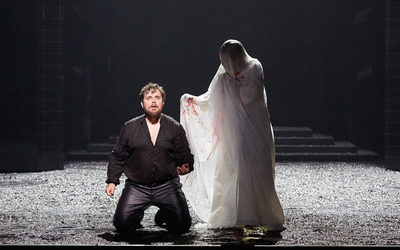 Blood and thunder. Michael Spyres as Rodolphe, under the spell of a specter less saintly than she seems (Marion Lebègue).
The premiere of Charles Gounod's
La Nonne Sanglante
(The Bleeding Nun) flopped so hard as to precipitate the ouster of the director of the Paris Opéra, whose successor let it be known that the company would no longer tolerate
de pareilles ordures—
"such rubbish." A century and a half later, this rarest of revivals comes from the Opéra Comique, a scarcely less historic Parisian institution, though one of less snooty pretensions. As resurrected in 2018, the Gothic shocker falls squarely under the heading of guilty pleasures, briskly delivered.
If the spine-chilling ghost story does not rise to the standard of Gounod's imperishable Faust,which premiered five years later, it's still a corker. During the overture, clueless and unprepared, we witness the savage murder of a woman in white amid mayhem meted out by fully clothed warriors as ferocious as Pollaiuolo's in the iconic Battle of the Nudes. As the main action gets underway, we meet our hero Rodolphe, whose fate—like that of Prince Siegfried in Swan Lake—is to pledge his faith to a diabolical double of his beloved. Of course, there's hell to pay.
A preposterous premise? Not to the Romantics, who loved the kind of twists in which Eugène Scribe and Germain Delavigne's libretto abounds. Eight composers, among them Auber and Verdi, gave the script a look. Berlioz, that devotee of the macabre, went so far as to compose at least an entire act. When the project finally landed with Gounod, its eccentricities prompted him to develop what amounts to an off-kilter new musical dialect, voluptuous yet spiky. A chorus of spectral wedding guests mimicking Fate as it knocks on the door in Beethoven's Fifth Symphony beggars belief.
Three women have brilliant parts to play. As Agnès, the daughter of Rodolphe's father's ancestral enemy, the square-jawed, porcelain soprano Vannina Santon evolves, like Shakespeare's Juliet, from ingenue to heroine with a spine of steel. Jodie Devos, a second soprano, en travesti in a dark bob and bucket hat, sparkles as Arthur, Rodolphe's frisky squire. Finally, there's the blood-soaked nun herself. Undead in carmine lipstick and zombie contacts, the mezzo Marion Lebègue could terrorize by looks alone, but hers is a far-from-silent part. In tones both sumptuous and ghoulish, she ensnares like Circe and cries down vengeance like Medea.
Orbited by this arresting troika, dressed to kill in a biker's black leather, the Rodolphe of Michael Spyres owns the stage. In an opera that runs a swift two hours and a quarter, his part goes on for days. Sweet of feature, sweet of tone, liquescent of phrase, Spyres suffers slings and arrows and flies on wings of rapture without tiring or ever outwearing his welcome, not even for a second.
La Nonne Sanglante streams on medici.tv
*
With the recital album Baritenor, the singer-scholar Michael Spyres mines music history for sheer delight (November 12, 2021)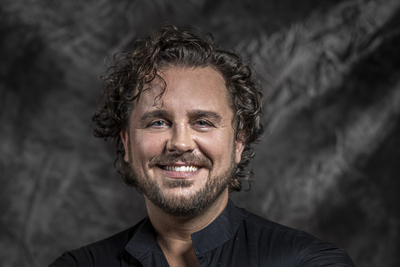 A Tonio for Donizetti and Leoncavallo. Michael Spyres defies classification, citing illustrious historic precedents.
Vocal categories are like shoe sizes: approximations, no guarantee of a perfect fit. Customarily, opera fanatics distinguish among tenors, baritones, basses, and switch-hitting "bass-baritones." What, though, is a baritenor?
In our time, the term has been synonymous with Plácido Domingo as he traded down from Verdi's Otello, Giordano's Andrea Chénier, Canio in Leoncavallo's Pagliacci, and so on, to the lower-lying likes of Verdi's Macbeth, Puccini's Gianni Schicchi, Athanël in Massenet's Thaïs,etc. With the new recital disc Baritenor, the learned and virtuosic Michael Spyres aims to restore the coinage to a much broader and more fascinating context.
His playlist of an astonishing 18 tracks ranges from high-flying numbers few baritones would attempt in public to rolling cantilenas few tenors could hope to make sing. Figaro's rapid-fire entrance aria from Rossini's Il Barbiere di Siviglia is here, a baritone showpiece if ever there was one, the high notes pinging with joie de vivre in a way they don't in Domingo's famous recording from his heyday as a tenor. Led by the Slovenian conductor Marko Letonja, the Orchestre Philharmonique de Strasbourg launches into each number as if it were the album's hit single. That verve marks the singing, too, though Spyres is too much the artist to sell, sell, sell. Here is a showman who lets the music blossom.
In crisp liner notes, Spyres aligns himself with historic mavericks whose exceptional talents redefined composers' ideas of what one man's voice could do. Some identified as tenors, some as baritones. Some fell into the in-between category of "baryton-Martin," neither fish nor fowl. The way Spyres sees it, these heroes of his were all voice-type-fluid, and theirs is the mantle to which he aspires.
The sheer stylistic variety of his program dazzles, and the juxtapositions astonish. From Donizetti's La Fille du Régiment, there's Tonio's bubbling "Ah, mes amis," its nine high C's popping like corks off so many bottles of Veuve Clicquot. From Leoncavallo's Pagliacci, there's another Tonio's "Prologue," steeped in empathic melancholy. There's Mozart at his most showy ("Fuor del mar," from Idomeneo) and at his most unassuming (Don Giovanni's serenade). There's prime Verdi, and Wagner in numinous French, alongside the stirring Napoleonic rhetoric of Méhul and Spontini.
If you have time for just one track, make it the quixotic ballad of Kleinzach from Offenbach's Les Contes d'Hoffmann, in which the mocking portrait of a court grotesque unaccountably swerves into romantic rapture. Could it be that of all his characters, Hoffmann is the one Spyres most closely identifies with? "Bingo!," Spyres answered on a recent call from Paris. "Other than that, it would be a tossup between the Berlioz Faust and Candide in the Broadway musical."
Baritenor is available on CD from Warner Classics & Erato and on all streaming platforms
*
From Adolphe Adam, composer of the tragic ballet Giselle, an operatic soap bubble starring a postman with a knockout high D (December 10, 2021)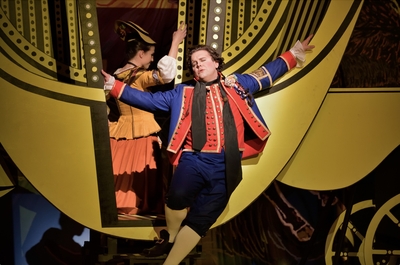 The newlywed Mr. and Mrs. Country Bumpkin (Michael Spyres, Flora Valiquette), rocking duds by Christian Lacroix.
Does opera get any frothier than
Le Postillon de Lonjumeau?
Absolutely not. (By comparison
The Daughter of the Regiment
plays like
The Trojan Women.
) Tragedy of a sort strikes when a roving talent scout for the king overhears a country bumpkin—the eponymous
postillon,
or driver of the mail coach—casually knock off a high D and whisks him to stardom in Paris faster than Alice's White Rabbit, no time even to say hello, goodbye, not even to the newlywed Mrs. Coachman! (They're late, they're late, they're late!) Fade out, fade in 10 years later, when the misinformed divo unwittingly remarries his own wife, who has come into a fortune. Oops! Bigamy is a capital offense.
What floats the opera's boat is the fairy dust scattered in abundance by Adolphe Adam, the composer best remembered for Giselle, that paragon of the romantic ballet. As dance lovers know, Adam simply did not have the chip for tunes that were not infectious. Whether the moment calls for sweet talk, heartache, frivolity, suspense, or even terror, he has melodies spilling from both sleeves.
Apart from a daffy poetic sensibility, the protagonist needs crackerjack technique. The range he covers, top to bottom, is vertiginous. His runs, trills, and other embellishments put Mozart's Queen of the Night to shame. Le Postillon de Lonjumeau was long popular all across Europe, even in the provinces—but how many tenors were ever able to deliver to an international standard all that the role demands? Make of this what you will: the Metropolitan Opera never staged the piece at all, though not so long ago, it might have. That would have been after the Royal Swedish Opera in Stockholm threw a 20-something nobody named Nicolai Gedda into the title role, precipitating an international sensation. Presto! Next thing Gedda knew, he was recording with Karajan and signing autographs at the stage doors of the world's top houses—and nowhere more frequently than at the Met.
These days, only antiquarians remember Adam's wild and crazy confection. Preserved on video, the Paris revival of 2019 by the Opéra Comique (which introduced the work in 1836) was the company's first in 125 years. And the ebullient Michael Spyres, firing on all cylinders in the title role, proceeded simply to crush it. Don't let me count the ways. We'd be here all night.
The production is lighter than air. Candy-box décor by Emmanuel Charles furnishes dizzying fantasy backdrops for the drop-dead costumes by Christian Lacroix, who dresses even the peasant chorus in couture. As the coachman's country bride in her ivory-and-chestnut Sunday best, all stripes and plaid and brocade and ribbons and bows, the delectable Florie Valiquette is a fashion plate come to life. Glammed up for Versailles, she dazzles in yard upon yard of raspberry silk, dripping jewels and lace and balancing a platinum coiffure that kites her stature by a good two feet.
Kudos where kudos is due: hair and makeup are credited to Pascale Fau, the sister of the director Michel Fau, who proves a deadpan stylist, and not only behind the scenes. In Act Two, he steps out as the leading lady's lady's maid, her stout funhouse double, mimicking Madame's every fashion statement, from the dress and the wig right down to the beauty spots placed just so. Harvey Fierstein, eat your heart out.