Remember the discouraging word last tune that "Catch of the Day" would henceforth stream live only? Well, scratch that. In short order, the station has station has found a new and superior hookup that keeps our shows available not just one week but for two.
To catch up with the September 27th edition, follow this link to the "Recent Broadcasts" page, find the "Show" menu, select "The Alpha And Omega," slide the timer to the halfway mark (2:00 hours in), and there you are! The link will be live through October 10. (We're working on simplifying access for future editions.)
The playlist—minus chat—is available indefinitely on Apple Music.
Top pick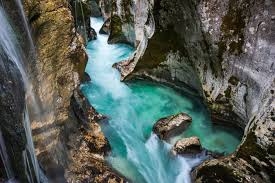 John Luther Adams: The Become Trilogy (Cantaloupe 2020)
Seattle Symphony Orchestra & Ludovic Morlot
Richard Wagner sets his Ring cycle in motion with sound that becomes the Rhine, welling up from the depths of a sustained low E-flat. John Luther Adams traces the origins of his nameless stream to the stratosphere, in wind-chime sonorities speckled with tinkling bells amid a blur of glassy strings. Like Wagner, this Adams (not to be confused with John Adams) proceeds to steep our senses in layer upon layer of extra timbres and movement. It seems preordained composers would conjure rivers this way; adrift in Adams' waters, a listener may flash not only on Wagner (the Rheingold prelude, Siegfried's Rhine Journey from Götterdämmerung), but also on the Smetana of "The Moldau" or the Philip Glass of Aguas da Amazonia—realizing at the same time that Adams is working in a new idiom we are only beginning to fathom.
*
For your further consideration:
The Leipzig Circle, Vol. 2 (Live) (SOMM Recordings 2020)
London Bridge Trio
Clara Schumann, Piano Trio in G minor, Op. 17: I. Allegro moderato
The life of Clara Schumann, née Wieck, is the stuff of romance—the three-volume, Victorian variety. A child prodigy of the piano, she began her 61-year career on Europe's starriest concert stages at the age of 11. In adolescence, she played Juliet to the Romeo of Robert Schumann, though in this case, the lovers' tragedy was considerably deferred. Against her father's will they married, were blissfully happy, and produced eight children. But soon early dementia snatched Robert away, leaving Clara to fend for herself for 40 years as the keeper of his flame as well as an inspiration to the younger Brahms. As a composer, she was not especially prolific. Robert fretted that domesticity was snuffing out her potential in this department; her own settled opinion seems to have been that her creative talent did not amount to all that much. As time goes by, Clara receives ever more lip service as a smothered genius but few hearings. The amply scaled Allegro moderato of her Op. 17 deserves better. In the hands of the London Bridge Trio, , the music plunges into darkness on thrilling wings of headlong desperation.
*
Ricky Ian Gordon: Ellen West (Bright Shiny Things 2020)
Ricky Ian Gordon, Nathan Gunn, Jennifer Zetlan, Aeolus Quartet, Lidiya Yankovskaya
Why am I a girl?
Even as a child, I saw
Epilogue/Hymn
Set to poetry based on a case study on bulimia and body dysphoria before psychiatrists had a handle on these afflictions, Ricky Ian Gordon's chamber opera leaps from the speakers with blistering intensity. In song and inflection, Jennifer Zetlan finds the sting in every phrase. Great musicianship, great acting. A live performance, in every way.
*
Contemporary Voices (Cédille 2020)
Pacifica Quartet
Shulamit Ran, String Quartet No. 3 "Glitter, Doom, Shards, Memory": III. If I perish, do not let my paintings die
Drumming fingers on wood, then—unusually granular—the voices of strings under bows that move with slow deliberation, each seeming to go its own way yet circling some common center. Hypnotic stuff.
*
Epicycle II (Sono Luminus 2020)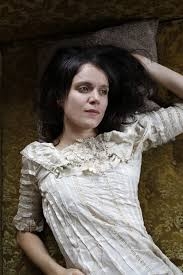 Gyða Valtýsdóttir of Iceland
Gyða Valtýsdóttir, cello, vocals
Daniel Bjarnason, "Air to Breath"
Gyða Valtýsdóttir, Kjartan Sveinsson, "Liquidity"
In "Air to Breath," Valtysdottir's cantilena is the ray of mystic light that animates a cathedral built of great girders of sound. In "Liquidity" her elvish vocals pierce a floating, pensive haze shot through delicate pizzicati, building to a rhapsodic close.
*
Beethoven: Complete Works for Piano and Cello (JRI Recordings 2020)
Nancy Green, cello; Frederick Moyer, piano
Twelve Variations in G Major on "See, the Conquering Hero" from Handel's Judas Maccabaeus, WoO 45
No match for the 33 of the towering Diabelli set—not that you'd expect that of a work to which the composer didn't bother to assign an opus number (as the WoO indicates). But his theme here, unlike Diabelli's notoriously dippy little waltz, raises the spirits, and he handles it (no pun intended) with his characteristically boundless invention. The performance is stirring, too.
*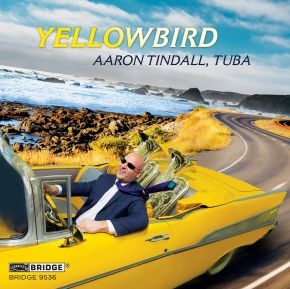 Yellowbird (Bridge Records 2020)
Aaron Tindall, tuba
Fred Tackett, "The Yellow Bird" (arranged for tuba and chamber ensemble)
With Shelly Berg, Chuck Bergeron, Svet Stoyanov, and Brian Russell
In a recent obituary, the New York Times honored Constance Weldon, "Pioneeering Virtuoso of the Tuba." The accolade teeters on brink of oxymoron. Though the instrument does yeoman's service in no end of concert repertoire and opera, few composers have singled it out for fancy solo exposure. So, when the versatile Aaron Tindall saunters along, making like a diva on trumpet or sax, jaws drop—even if at times he might as well be sharpshooting with a bazooka.