Aloha, friends! Two exciting pieces of news to share with you today.
Streaming on demand! Starting June 28, episodes of "Catch of the Day" remain available seven days for streaming on demand. On the KMNO Manao FM 91.7 homepage, click "LISTEN ON-DEMAND" to access the calendar grid, select the desired date, find the noon time slot, click the PLAY button, and voilà! Remember that our show airs the first and last Sunday of each month; our program slot is labeled "PLAYLIST WITHOUT BORDERS or CATCH OF THE DAY." (I should tell you that we had a new ghost in the machine yesterday, creating crazy electronic loops in the commentary. Never did figure out what caused it, but happily the nuttiness goes away with the second music selection.)
Playlists on Apple Music. Beginning today, "Catch of the Day" playlists will be posted to Apple Music, allowing you to sample our fare on your own. Here's a link for the latest show.
And now, here's the annotated playlist for the music we caught today. Lots of choice discoveries.
The Quarantine Trilogy (Isotopia Records 2020)
Constance Hauman, piano; Ross Pederson, drums, synth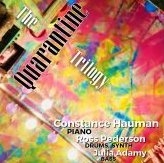 Audio very much of our ill-starred historic moment, evoked by the composer-performers in a minimalist lullaby sinking ever deeper into a sinister cosmic rumble, like a jet engine revving up for a flight that may never take off.
*
Froberger: Complete Fantasia & Canzonas (Divine Art 2020)
Terrence Charlston, clavichord
Fantasia I Sopra ut, re, mi, fa, sol, la in C Major fbWV 20
Music-box music of a high order: mechanical, vibrant, metallic, heavily laced with baroque chromaticism.
*
Viacheslav Artyomov: Album XI (Divine Art 2020)
Sonata for Clarinet/Oleg Tantsov
Jaunty flight of fancy, punctuated by skittery figures and Evel Knievel leaps across crazy-wide intervals, dispatched with throwaway virtuosity.
4 Armenian Duets: No. 4, If You Are A Swimmer/Ruzanna Lisitsian, Karina Lisitsian & Vyacheslav Artyomov
If, as the title has it, you are a swimmer, you'll sense the ocean in the sensual, bubbly swirl of the piano and the moiré layering of the singing voices.
*
The Man, Hurdy-Gurdy and Me (Métier 2020)
Siniru
The Man, Hurdy-Gurdy and Me
2 Highland Dances (Arr. for Lute): No. 1, Half Moon
Feste's Song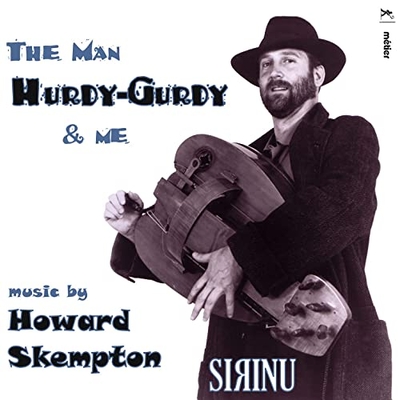 Bittersweet preindustrial timbres conjure up wide-open spaces and times long gone. Lovely to feel the flow of living breath through the flute, the touch of fingers on the lute strings, the pristine delicacy of the singer's soprano. Highly recommended.
*
Moon Marked (Métier 2020)
Chris Gekker, trumpet and flugelhorn
Variations & Fugue on a Theme by Brahms
With Rita Sloan, piano
From an anthology of contemporary chamber compositions for trumpet or flugelhorn, Eric Ewazen's tribute to the German titan's expansive romanticism, rich in texture as well as in melody, testing this mood and that mood to conclude on a note of confident arrival. On flugelhorn, close kin to the trumpet, Gekker dispenses phrases of golden amplitude and authority.
*
Nuits blanches: Opera Arias at the Russian Court of the 18th Century (ATMA Classique 2020)
Karina Gauvin, Pacific Baroque Orchestra & Alexander Weimann
From Le faucon : « Ne me parlez point » (Bortnianski)
From Demofoonte : « Misero pargoletto » (Berezovski)
As the founder of St. Petersburg, Peter the Great turned his back on Muscovite medievalism in favor of eighteenth-century enlightenment, setting a cultural precedent his successors (many of imported by marriage from Western Europe) diligently embraced. In particular, they hankered for the cultural adornments of Western Europe and could well afford them (think Fabergé eggs). On this evidence of Karina Gauvin's latest release, the composers Russia's ruling class could attach to the court fell well short of Vivaldi, Handel, and the leading Neapolitans. Stirring the heartstrings lightly, the bland strains we sampled may well have left a courtier pleasantly chill after a long day's bowing, scraping, and back-stabbing, vaguely touched and vaguely out of touch.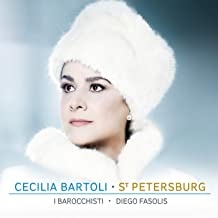 Within these parameters, Gauvin and her colleagues make a perfectly creditable case for the music. Still, it's worth pointing out that Cecilia Bartoli, that force of nature, plunged into the archives of the Mariinsky Theatre about six years ago and came away with material of far greater visceral excitement for her CD Saint Petersburg. Bartoli never fails to open unforeseen, often revelatory vistas. Even so, rare is the fan who ranks this album among her Top Ten.
*
Mozart: Piano Concertos, Vol. 2 (Bridge 2020)
Anne-Marie McDermott, Odense Symphony, Kenneth Montgomery
Piano Concerto in D major, K. 451: II Andante
Celestial music set forth in a mood of crystalline transparency, blessedly free of eccentricity or affectation.
*
Hush! (SOMM Recordings 2020)
Papagena
Fire-Flowers: No. 1, Moonset (Don Macdonald, Version for Treble Chorus)
The Women's If (Jim Clements)
Cor mio (Alessandro Scarlatti, ed. J. Jürgens)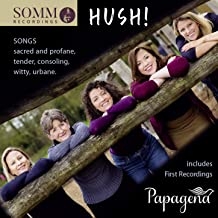 A female quintet from the UK, three sopranos and two mezzos, serve up a rijsttafel of bewildering variety. The Macdonald stands out for harmonies that fray into dissonance and then reconverge; the Scarlatti is a tour de force of interlocking melody, exquisitely blended. As for the Clements, which is wild, it helps to know that the garrulous text is from the pen of Caitlin Moran, the London Times columnist and author of How to Build A Girl (a number-one bestseller, we are informed, though on whose list I could not tell you) and its sequels as How to Be a Woman, How to Be Famous, and More Than a Woman. Caution: Do not on any account this juggernaut with the journalist Caitlin Moran of Seattle, whose electronic newsletter The Evergrey, published daily, seeks to help 13,000 Seattleites make the most of their city.