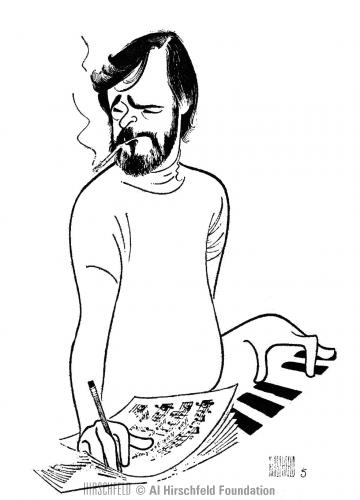 "I've always wanted to have a smash, but I rather doubt that I ever will," Stephen Sondheim said in the mid-1970s. Judging from their reviews, West Side Story(1957) and Gypsy (1959)—for which he wrote the lyrics—ought to have been smashes, Sondheim remarked, but smash hits spring from stories audiences want to hear, "and it's always the same story: how everything turns out terrific in the end, and the audience goes out thinking, That's what life is all about."
No,Virginia, that is not what most lives are about—neither real life nor life as mirrored in the musicals through which Sondheim has emerged as the most distinctive and influential songwriter of his age. In place of the smash, he got a halo. For decades now, Sondheim celebrations (all-star galas, cabaret acts, star-studded full-evening anthologies) have become almost a genre unto themselves: the sterling consolation prizes awarded by his fellow theater professionalsin lieu of a really long run, which has yet to materialize.
Now a remarkably youthful seventy-two, Sondheim has lived to see his star shine brighter than ever. Broadway has just
rolled out the red carpet for a revival of Into the Woods, which accompanies Cinderella, Rapunzel, Little Red Riding Hood et al. into dark territory never charted by the Brothers Grimm. In Washington, D.C., meanwhile, the Kennedy Center is revving up for an entire Sondheim season: Sweeney Todd (the one about mass murder and cannibalism), Company (commitment anxiety), Sunday in the Park With George (Pointillism), Merrily We Roll Along (selling out), Passion (to put it mildly) and A Little Night Music (Ingmar Bergman sings!), all major new productions rotating in repertory from May through August.
And for a chaser, the Kennedy Center is also presenting Pacific Overtures, that strange Kabuki-style depiction of American gunboat diplomacy as seen through Japanese eyes, in a Japanese-language production by the New National Theatre of Japan. The bounty adds up to eight of Sondheim's seventeen Broadway shows back on the boards, and that's not all. Gypsy, now an established classic, is due for a major Broadway revival next year, directed by Sam Mendes (American Beauty, Cabaret), and starring Bernadette Peters. And, after a troubled workshop and a bitter lawsuit, his latest project—once called Wise Guys, newly (perhaps temporarily) titled Gold!—is on the drawing board again. Conceived, Sondheim has said, as "a romp through American history," and centered on the once-celebrated Mizner brothers (one an architect, the other a con man), the work reunites Sondheim and his longtime collaborator, the director-producer Harold Prince, back in business (with a bang) after a break that
lasted two decades.
Popular lore knows Sondheim as atouch-me-not, inaccessible to the press and often difficult company even in his closest circle. For deep background, consult his biographer Meryle Secrest, in whose pages Sondheim's childhood reads like a nightmare that did not end when he grew to man's estate. ("The only regret I have in life," his aged mother wrote him from a hospital bed, the night before surgery she hysterically thought she might not survive, "is giving you birth.") Add to this the professional frustrations of a serious artist in an art form that, as he has said, "is hardly worth being called one," and the dark side of Sondheim's subject matter more or less explains itself.
But tread softly, dime-store Dr. Freuds. Sondheim's vita has not been all bad. Friendships formed in youth have
lasted a lifetime. Though still an emotional "boy in a bubble" at sixty-one, he then saw love walk in at last, in the person of Peter Jones, an aspiring songwriterdecades his junior. Photographs of the artist across the years suggest—along, perhaps, with shyness—a deep capacity for irony and amusement, vulnerability—rather than the coldness of which his work has often been accused. Lately, to the amazement of friends who have known him for decades, he has even been singing his own songs at parties. They are songs of hope and heartbreak. Good times and bum times, he's seen them all, and my dear, he's still here.
In the end, of course, the songs are the thing. What sets them apart? As Sondheim has often said, he thinks like an actor. The lyricist Oscar Hammerstein, virtually a godfather to the budding composer, brought him up to think of songs as "compressed scenes," written for a specific character at a specific moment, with a specific dramatic agenda. (Sometimes he may overshoot. Elaine Stritch, the original interpreter of "The Ladies Who Lunch," calls the song "a three-act play.")
"As soon as you start thinking that way, you're thinking like a playwright," Sondheim says now, over the phone from his town house in New York City's Turtle Bay, next door to Katharine Hepburn's. "And most playwrights I know think of their characters from the inside out, once they get to know them,just as actors do. That's how you explore character. Which brings us to the subject of subtext. Give the actor something to play, beyond what's on the surface."
Note that the subject is words, not music. Note, too, that at the dawn of his Broadway career, when no one would hire him to write songs, Sondheimswallowed his pride and wrote lyrics for the use of other composers (Leonard Bernstein for West Side Story, Jule Styne for Gypsy). Since A Funny Thing Happened on the Way to the Forum (1962), however, Broadway audiences have heard Sondheim's words set to Sondheim's music almost a dozen times (though runs have been as short as nine
performances). But, as Sondheim is quick to acknowledge, the scenarios into which he drops his songs—which is to say, from which they precipitate—are nearly always a playwright's, not his own. Over the years, book credits on his shows have gone to Burt Shevelove, Larry Gelbart, Arthur Laurents, James Goldman, Hugh Wheeler, John Weidman, James Lapine. Yet what promises to take a permanent place in the collective memory are the songs—"Comedy Tonight," "Johanna," "Children Will Listen," "Loving You," "Send in the Clowns"—not the characters who sing them or the books that inspired them. Hence, all those celebrations that focus on the composer. Those "compressed scenes" of his have assumed lives of their own.
At seventy-four, Barbara Cook, Broadway's reigning ingenue in the 1950s, is selling out concert halls and theaters from New York and London to Sydney, Australia, with her incandescent Mostly Sondheim program. Once, asked to sum up Sondheim's accomplishment in a sentence, she gave the matter a moment's thought and then likened him to Picasso. "Stephen is a seminal force," she explains now. "He changed our theater the way Picasso changed art."
And like Picasso, he has come in for his share of resistance along the way. "People think of him as unsentimental," Cook says. "I don't think that's true. But the way he expresses sentiment is never mundane. I'll never tire of singing his songs. But until I actually started singing them, I thought of him as brainy, the way many people do. I saw the cleverness, not the emotion. And for a lot of people, it can take time to hear the melodies in his music."
On this point, as on others, Sondheim is philosophical. "Melody is in the ear of the beholder," he says with a shrug. "Put in enough reprises and people walk out thinking any tune is 'hummable.' "
Time to move on. This afternoon, he's off to a reading of Gold!, which is due for an unveiling in a new, improved form, probably at the Goodman Theatre in Chicago, maybe next year.
Will it be the smash he once longed for? Who can tell? But if the current Sondheim renaissance is any indication, the general audience is at last catching up with the connoisseurs. Maybe, just maybe, everything's coming up roses.
Isn't it rich? When Sondheim coined that phrase, no one was sure that people would get it.