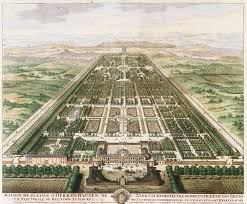 Hannover, in the German state of Lower Saxony, lies on the 52nd northern parallel, way up there with Lake Baikal and Alaska's Kiska Island, still a whisker south of the Scandinavian capitals. By May, the days start seeming endless there. Readers of these posts may recall
how stoked I was last year to discover and participate in the KunstFestSpiele Herrenhausen
, Ingo Metzmacher's cutting-edge performing-arts festival in and around the palace that was once the haunt of that Gottfried Wilhelm Leibniz, torchbearer of the Enlightenment, widely acknowledged as the last Universal Genius.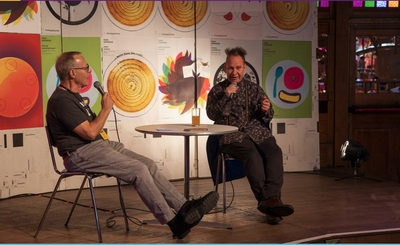 Diving into Claude Vivier's mysterious "Kopernikus" with Peter Sellars at last year's KunstFestSpiele.
Well, when the next edition rolls around in May, I'll be back to conduct a six-part series of talks with stars of this year's all-new constellation:
the VR wizard Michel van der Aa, who will be presenting his astonishing Eigh
Rugilė Barzdžiukaitė, winner of the Golden Lion at last year's Venice Biennale formarathon performance piece Sun & Sea (Marina)
he pianists Jean-Frédéric Neuburger and Jean-François Heisser, on hand to play Karlheinz Stockhausen's trippy Mantra
the percussionist without boundaries Johannes Fischer, who can coax music from just about anything
and, of course, the festival's mastermind himself, Ingo Metzmacher, who takes to the podium this year for Mahler's cosmic Symphony No. 8, the Symphony of a Thousand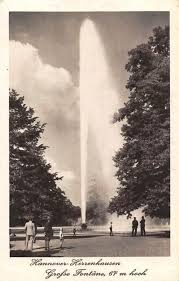 My Herrenhausen calendar appears below. The series also has its own page on Facebook, a first for me. (What have I been waiting for?) To browse the complete Herrenhausen brochure or order it in hard copy, click here.
Herrenhausen was a fantastic discovery for me last year. This year's lineup is just as rich and full of surprises. Here's hoping our paths will cross there! Robert Henke's Fountain Scan alone--a new laser installation around the breath-taking 80-meter jet d'eau, promises to justify the trip!
*
My talks:
Saturday, May 16, at 6:00 pm - with Michel van der Aa (in English)
Sunday, May 17, at 4:30 pm - Q&A--an open discussion
Thursday, May 21, at 6:00 pm - with Jean-Frédéric Neuburger and Jean-François Heisser (in English)
Wednesday, May 27, 6:00 pm - with Johannes Fischer (in German)
Friday, May 29, at 10:15 pm - with Ingo Metzmacher (in German)
Monday, June 1, at 3:00 pm - with Rugilė Barzdžiukaite at the Lutherkirche (in English)