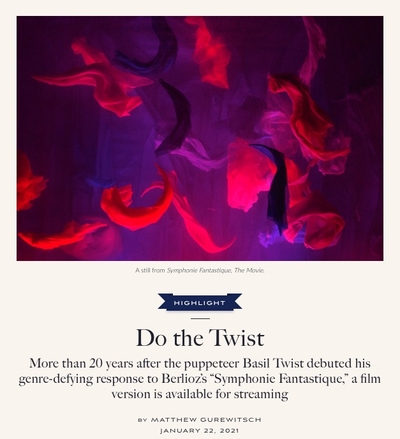 When Basil Twist got his MacArthur in 2015, the only question was why it had taken so long. As far as the smart money was concerned, his genius had been established fact since 1998, when he first interpreted an opium dream from the pen of Hector Berlioz in a 500-gallon aquarium. Some critics called Twist's Symphonie Fantastique a nonrepresentational underwater puppet show; more accurately, Twist himself described it as a "spectacle of abstract form." Whipped up from tatters of fabric, wands, the odd ostrich feather, acrylic cutouts, and other far-from-precious bric-a-brac, the instant hit went on to glory in boutique venues around the world.
For the landmark New York revival of 2018, Twist expanded his original quartet of operators to a team of 10 and doubled the capacity of the tank. At the same time, more controversially, he switched canned music for live, nominally an upgrade, but an equivocal one. The original audio, steeped in Twist's Proustian thought associations, was a Philadelphia Orchestra recording with Eugene Ormandy that the young Basil had loved to death on vinyl. Now the score was in the hands of Christopher O'Riley, performing a piano reduction in full view of the audience, at the steep price of the composer's prismatic instrumental palette.
But the extra theatrical flourish does pay off for the camera. Brilliantly shot and edited, Symphonie Fantastique, The Movie doubles as a performance and a documentary, tipping the master's hand even as it delivers the magic full-strength. The bubbles bursting in floodlit waters of Jell-O red and green will blow your mind.
Symphonie Fantastique, The Movie is available to stream on Vimeo.
*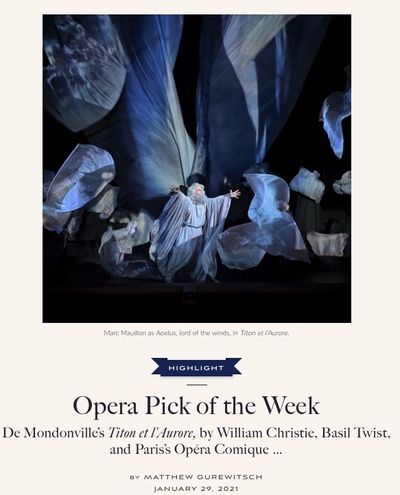 Idolized by two goddesses, abhorred by a god, a mortal shepherd has all Olympus in a tizzy and cannot fathom why. Jean-Joseph Cassanea de Mondonville's Titon et l'Aurore, a bauble from the court of the Sun King, wraps a cat's-cradle of entangled amours in ravishing tunes and timbres. This is just the kind of buried treasure the musicologist William Christie and his ensemble Les Arts Florissants have made it their mission to unearth. Nothing, to mix a metaphor, could put more wind in their sails than the theatrical fantasy of the wizard puppeteer Basil Twist.
Mounted and filmed in lockdown in the empty auditorium of the Opéra Comique, Twist's production manages to marry the playfulness of vintage Disney to the Baroque extravagance of Tiepolo. It's all as absurd as it is majestic, at once tinsel and pure gold. Terracotta figures awaken to dancing life, as do some very daffy sheep. Aoelus, lord of the winds, sweeps in like a thunderhead, and the hapless hero ages before our eyes into another Rip Van Winkle. Even the obligatory allegorical prologue—too often a snooze in these court pageants—lands with grace and flair.
Titon et l'Aurore is available for streaming until April 19