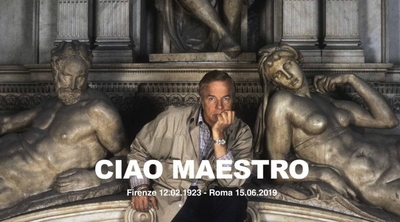 "Some people think that once you bury a person, the person is gone," he once told me over the telephone. "No, no, no, no, no!" his voice continued, skipping down the scale like a singer's. "There are people you cannot live without consulting, even if they are dead."
We had never spoken before. Our conversation, for a profile in the New York Times, was meant to have been face to face in Manhattan, but Franco Zeffirelli was recovering from hip-replacement surgery and unable to travel. In honor of the recreation of his classic Falstaff at the Metropolitan Opera, my editors had given me all the space I requested to reassess, perhaps rehabilitate, a Renaissance man, Shakespearean personality, and theatrical genius whose critical reputation had seen many ups and downs.
The story appeared, and we spoke a second time. His exact words are lost, but the gist was that we had connected in a way that was genuine and that the conversation must continue. He included an open invitation to his fabled seaside retreat on the Amalfi Coast, and I paid him a visit there not long after. Sometime later, he asked me to write a keynote essay for the book Franco Zeffirelli: Complete Works – Theatre, Opera, Film (Henry N. Abrams, 2010).
We last met outside Rome, at his bucolic spread on the ancient Via Appia, where he was working on colossal designs for the Arena di Verona. Don't ask me how I got there. From a map of the Eternal City, it seemed a person could walk—a calculation I abandoned along a dusty country road with miles to go, no water, and scant prospect of a taxi. We may have spoken once or twice after that, but the last time I reached out, who remembers why, I didn't catch him. Maybe I was calling about the living memorial he was building in his native Florence. I hope our paths will cross there one of these days.
There are friends you cannot live without consulting, even if they are gone.