On a recent visit to old haunts in Europe, I felt motivated as I seldom do these days to document various theatrical and musical events. In addition to reports I have posted on this site, several others have appeared elsewhere. If you're curious, please follow the links below.
Musical rarities that tempted me in London included the London Philharmonic's season-opening concert performance of Georges Enescu's long-neglected Œdipe, led by Vladimir Jurowski, and the world premiere of The Judas Passion, by Sally Beamish and David Harsent, presented by the Choir and Orchestra of the Age of Enlightenment under Nicholas McGegan in the atmospheric setting of St. John's Smith Square. But there just wasn't time. I gave preference to several plays, including the interminable two-part Harry Potter and the Cursed Child (not everything you will have heard is true, except that tickets are very, very hard to get), Jez Butterworth's The Ferryman (lavishly wrought from every Irish cliché in the book, from banshees to dancing), and James Graham's indelible Ink (a brilliant Brechtian chronicle of the self-creation of the Machiavellian Rupert Murdoch).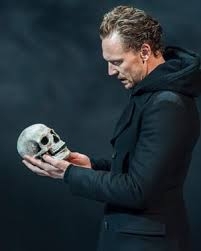 The one who got away: Tom Hiddleston as Hamlet.
Reserving a single night for
Follies
, I would gladly have traded all my other chips for Kenneth Branagh's production of
Hamlet,
starring Tom Hiddleston. Talk about exclusive. Mounted as a fundraiser for the Royal Academy of Dramatic Arts, the production played a strictly limited three-week run at the school's 160-seat Jerwood Vanbrugh Theatre. All tickets (even the critics') were sold by lottery (no comps for anyone), and the box office refused to process returns. One evening at showtime, I posted myself by the entrance with a sign indicating how far I had traveled (eleven time zones...). Several kindly persons shook my hand, and many wished me luck. Had anyone had a spare ticket, it would most certainly have gone to me; not one other soul was attempting my fool's errand. Who would have believed that Londoners take no for an answer? "Well," the box office manager told me, having absolutely nothing else to do all afternoon, "maybe if you're a close personal friend of Tom Hiddleston's..."
According to official sources, there were no plans to capture Hiddleston's Hamlet on video, nor have I heard so much as a whisper of a commercial run. Heigh ho! If you're in any doubt of Hiddleston's Shakespearean credentials, seek out his Prince Hal/Henry V in season 1 of The Hollow Crown, which PBS featured a few years back on "Great Performances." The heroics, even the wrath of God, are no stretch for Hiddleston, yet every grace note one could wish is at his fingertips. Among the common folk, he shows the common touch. With the daughter of the King of France, he is gauche yet aglow with a fine-tuned courtesy. For intelligence, imagination, animal magnetism, and the quality of empathy, which is ultimately the be-all and end-all, Hiddleston's interpretation will hold its own with anyone's. What luck that the cameras were rolling.