Three albums only this time, but each a winner in its distinctive way. Here they are, in order of appearance, with track listings:
William Susman, A Quiet Madness (Belarca 2020)
Seven Scenes for Four Flutes
Patricia Zuber, flutes (all four of them)
Stas Venglevski, bayan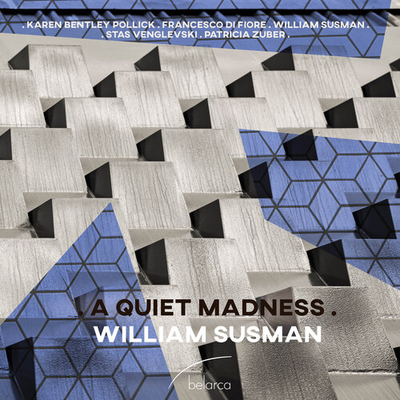 Promotional material for the program promises "a photorealistic sound world of understated beauty... [a]t once calming and thought-provoking, [allowing] the ear and mind to make their own connections without feeling overwhelmed by thematic constraints." Apart from the composer, on piano, four instrumentalists are at hand: Karen Bentley Pollick, versatile on strings and also a pianist; Francesco Di Fiore, yet another pianist; and the two we showcased in solo selections. Laying out out Susman's deliberate designs on multiple tracks, the flautist Patricia Zuber seems to me to display greater method than madness. Stas Venglesvski, two-time winner of the Bayan Competition in his native Republic of Moldova, goes crazy in wilder fashion, chromatic button accordion sending forth whirling and rustling Moiré patterns in sound. Neither segment, be it noted, is especially quiet, not that I'm complaining.
*
Wolfgang Amadeus Mozart: Piano Concertos No. 24 in C Minor, K. 491 and No. 27 in B-Flat Major, K. 595 (Riccardo Muti Music 2018)
Sviatoslav Richter, Orchestra del Maggio Musicale Fiorentino, Riccardo Muti
From K. 491, I. Allegro
From K. 595, III. Allegro (encore)
Instantaneous, instinctual rapport: Riccardo Muti and Sviatoslav Richter.
By the 1970s, when these recordings were made, Sviatoslav Richter had been reigning as an international titan of the keyboard for two decades. A People's Artist of the Russian Soviet Federative Socialist Republic adored by audiences everywhere, he also stood aloof, keeping his personal life to himself, vanishing from the rat race of the music "business" for whole months at a time. Only at the very end did he open up to Bruno Monsaingeon, a filmmaker who specializes in documentaries on music and musicians. Heart on his sleeve, Monsaingeon assigns each such labor of love an opus number, the way a composer would. A Frenchman sensitive to the shadings of many languages, including Russian, he has given the title of his Richter portrait, op. 58, a different nuance in each of his major markets. In French, it's
Richter l'insoumis
("The Rebel"); in German; it's
Richter der Unbeugsame
("The Unbending"); for the artist's compatriots, it's Ри́хтер непокоренный ("Unconquered"). In English, it's
Richter the Enigma
, likely the most fitting of all.
When Richter met Muti for the concerts preserved here, Muti's meteoric trajectory was just beginning. I've heard the conductor reminisce about their partnership many times; and as I remember the story, Muti felt hesitant, so early in his career, to approach so towering an artist. But Richter had no qualms. "If you are a serious musician, why not?" (I quote from memory.) They went on to collaborate on several occasions, on international concert stages as well as in the recording studio.
As documented in the live performance of K. 491 from 1971, the two artists shared an instant, instinctive, and inspired rapport that elevated every orchestra player, too. The music they make is as thoughtful as it is transparent, Olympian yet never ponderous or constrained. As in the architecture of Palladio, structures are spacious and in perfect balance, yet alive with the imponderable play of ambient light and shadow. When the maestro and the titan reunited for K. 595 in 1976, the ovation was rewarded with an encore of the finale, which is the version we played on the air. Sublime.
Like Bellini's I Puritani, featured on last week's show, this album is one of the historic recordings available exclusively through riccardomuti.com.
*
Fermi's Paradox (Sono Luminus 2020)
Ronn McFarlane, lute; Carolyn Surrick, viola da gamba; guest artist Jackie Moran, percussion
Dowland's Adew for Master Oliver Cromwell
She moved through the fair/John Barleycorn
Daniel's Chaconne (2013)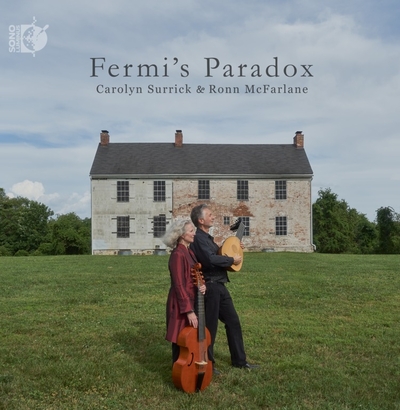 Developed as the coronavirus was canceling musicians' calendars everywhere, this first album by early-music specialists who had never recorded together covers ground that was largely unfamiliar to both. The long-ago-and-far-away tang and twang of their instruments make for magical listening. What a stroke of luck that John Dowland—an elegant Elizabethan snubbed by his sovereign but lionized in the court of Denmark—actually wrote a piece for their unusual combo; that was the "Adew" (read adieu) to Oliver Cromwell, known as "Old Ironsides," who led the armies of Parliament against Charles I and ruled England as Lord Protector after Charles's death on the scaffold—an act as shocking to his contemporaries as the storming of the Capitol was to Americans this year on January 6. The remainder of Fermi's Paradox consists of arrangements requiring untold hours of application "normal" teaching and touring schedules would never have allowed. The subtle yet substantial finished product does the artists proud.
Fermi's Paradox, for the record, is named for the American physicist Enrico Fermi. Given the number of stars in the universe, it seems statistically absurd that life as we know it on Earth should exist nowhere else. And why would not some of their civilizations be technologically way ahead of ours? Where, in short, Are the Aliens?