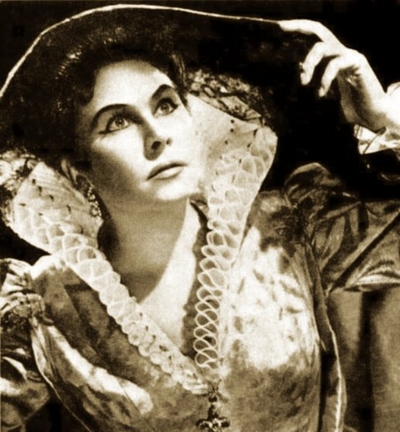 Glamour to burn: Christa Ludwig as Princess Eboli.
"How I wish I'd been a prima donna!" To judge from the title of her autobiography, Christa Ludwig's dreams of glory never quite came true. There's just no pleasing some people. Audiences as well as the world's top impresarios and maestros treated Ludwig as royalty, in a class of her own. Never mind that she never attempted Wagner's Isolde, a role she coveted and had offers for, but only the Liebestod, Isolde's rapturous finale. In the theater, she settled for Isolde's confidante Brangäne—a move that extended her career by who can guess how many years, luckily for her, luckily for us.
Since Ludwig's death at age 93 on April 24, eulogies for the great German mezzo soprano have been pouring in from all over the world. I won't pretend to have any privileged insight into her art or personality; I knew her only in the ways someone out there in the dark knows an artist, transactionally, sensing an intimacy that, real as it feels, cannot be mutual. But the memories have not faded.
My earliest impression of Ludwig goes back to my first visit to the Vienna State Opera, sometime in the 1960s. She was cast as the conniving Princess Eboli in Verdi's Don Carlos, a seconda donna whose flamboyance can easily overshadow the dignified radiance of the story's queen. That's how it went on this occasion, at least for this young fan; Ludwig is the only member of the cast I still remember, though by her own admission, she never felt at home in Verdi. Around the same time, she stepped into my life on vinyl as the teenage boy toy Octavian of my first recording of Der Rosenkavalier. (Trouser roles weren't her favorites, either, but she owned this one.) I was in my early teens myself then.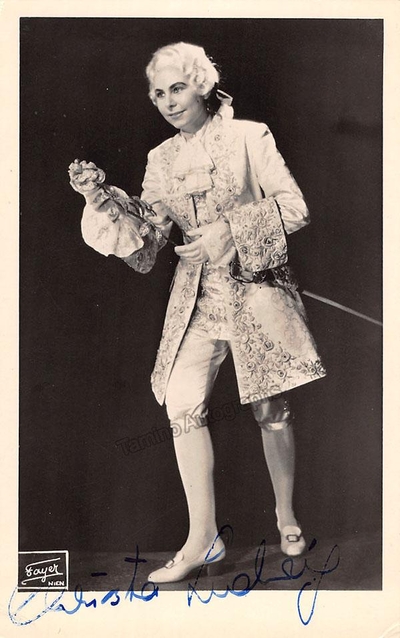 An iconic moment: Ludwig's Octavian presents the silver rose.
Beginning in my twenties in New York, I had the good fortune to catch her at the Metropolitan Opera as Didon, in
Les Troyens;
Kundry, in
Parsifal
; Klytämnestra, in
Elektra
; and Fricka as well as Waltraute in Wagner's
Ring
. And there were concerts galore, none more moving than an all-star tribute to Leonard Bernstein at Carnegie Hall, at which she sang Mahler's still, ineffably moving meditation, "Ich bin der Welt abhanden gekommen." The line is untranslatable, really. "I've gone missing from the world" or "I've stolen away..." catches the meaning fairly closely but not the tone. Last time I saw her was at a master class in Salzburg. Gracious, collegial, a great lady but no
grande dame
, she was passing down a half century's worth of insight to a new generation of recitalists.
A retrospective of Ludwig's great hits could run for hours, if not days. Alas, the FCC restricts DJs to three tracks by a single artist in any four-hour period. With that in mind, we chose:
Gioacchino Rossini, "Una voce poco fa," from Il Barbiere di Siviglia, sung in German as "Frag ich mein beklommnes Herz," recorded in 1964 with the orchestra of the Deutsche Oper Berlin under Heinrich Hollreiser. Who knew Ludwig could toss off coloratura with such dexterity, color, and abandon? Sheer joy. Believe it or not, she pulled Brünnhilde's heroic Immolation Scene from Götterdämmerung out of her hat for the same crazy-eclectic album!
Gustav Mahler, "Der Abschied," from Das Lied von der Erde, with the New Philharmonia Orchestra, conducted by Otto Klemperer in 1967. The final half hour of Mahler's symphonic song cycle, a departure into the beyond of ravishing sadness and beauty. A landmark recording.
Leonard Bernstein, "I Am Easily Assimilated (Old Lady's Tango)," from Candide, with the London Symphony Orchestra conducted by the composer in 1989. Patti LuPone, eat your heart out.
And as an in memoriam bonus, there was that Mahler song, "Ich bin der Welt abhanden gekommen"—the one Ludwig sang in 1990 in memory of Lenny at Carnegie Hall, partnered by the Metropolitan Opera Orchestra under James Levine—this time in a spare, hushed performance by Jonas Kaufmann and his recital partner Helmut Deutsch.
*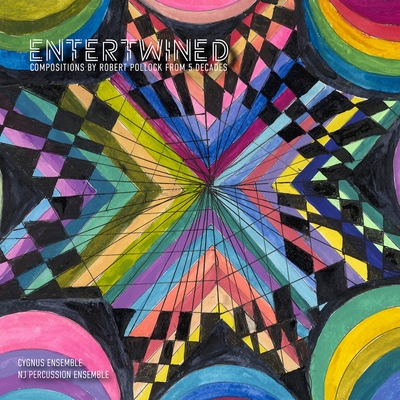 Threading through the Ludwigiana, our playlist also featured:
Cygnature Piece (1997), played by the Cygnus Ensemble (Tara Helen O'Connor, flute; Jacqueline Leclair, oboe; Jacqui Carrasco, violin; John Whitfield, cello; Oren Fader, guitar; William Anderson, mandolin), from the album Entertwined: Compositions by Robert Pollock from 5 Decades (Furious Artisans 2021).
Cygnature Piece is in two movements: I. Mysteriously; II. Dance. It's densely woven music, brimming with energy. Part of the mystery of the first movement dwells in the vehement plucking of the string instruments, along with the skittery excursions of the flute. The terpsichorean spirit of the second channels itself partly in swooning that recalls Ravel in La Valse, punctuated by plenty of crunch and bounce and strum and crackle.
*
Theme music from King Lear (wistful), As You Like It (becalmed), and Hamlet (flighty), from the 33 Miniatures that make up the Giya Kancheli album Simple Music (Steinway and Sons 2021); Jenny Lin, piano, and Guy Klusevcek, accordion.
None of the panels of our improvised little Shakespearean triptych touched the chord of the play at hand in any obvious way, but I suspect we were missing something. We sampled other tracks from this album last week with more inspiriting results, and I intend to keep exploring.
*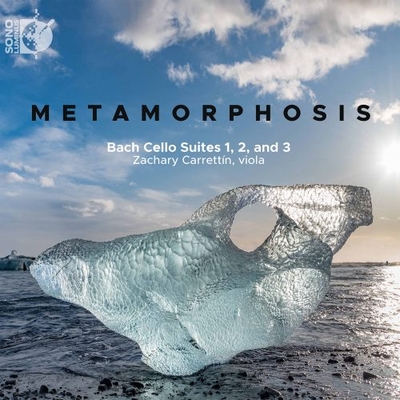 From the violist Zachary Carrettin, three movements from J.S. Bach: Metamorphosis, a disc of transcriptions of the master's first three Cello Suites (Sono Luminus 2021). Our playlist: Suite No.1 in G major, I. Prelude; Suite 2 in D minor, IV: Sarabande; Suite No. 3 in C Major, Bourrées I & II.
For anyone who might crave an airier, more balletic experience of Bach's monumental series, painted in a more transparent palette than usual, Carettin's charmed traversal looks to be just the ticket.