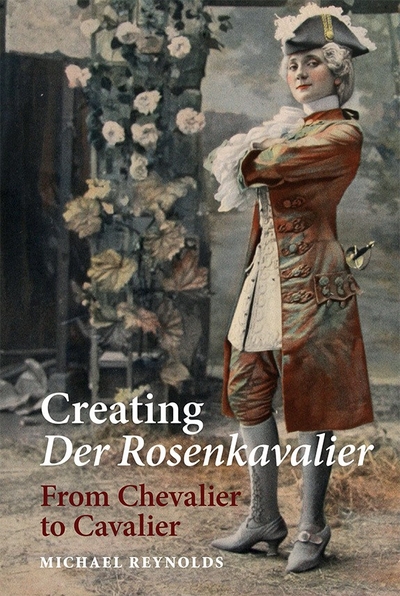 In Creating "Der Rosenkavalier": From Chevalier to Cavalier, Michael Reynolds unravels the secret history of one of 20th-century opera's few enduring hits. Turns out its most distinctive strokes of theatrical genius come straight from L'Ingénu libertin (1907), an operetta that wowed Paris for one heady season and then was seen no more. Louis Artus, the librettist, and Claude Terrasse, the composer, both prolific, are footnotes today.[*]
Happily for the poet Hugo von Hofmannsthal, who was on the hook to furnish Richard Strauss with an original libretto, the cosmopolitan Harry Graf Kessler was there, paying close attention. The opening bedroom scene between the sophisticated Marschallin and Octavian, the teenage boy toy sung by a woman? The climactic trio in which the Marschallin releases Octavian to the ingénue he will marry? Both these moments and much besides owe their place in Hofmannsthal's scenario to Kessler's all-but-total recall of that frothy entertainment in France. So close and intense was the interchange between Kessler and Hofmannsthal that Hofmannsthal floated the idea of naming Kessler as co-author of the libretto, an acknowledgment Kessler never sought.
For generations, the source book on the genesis of Der Rosenkavalier, which premiered in 1911, was the published correspondence between Hofmannsthal and Strauss. Reynolds finds richer veins to mine in the librettist's correspondence with Kessler, other correspondence within their circle, Kessler's voluminous contemporaneous diaries, and other sources, all sifted with nuanced critical and psychological intelligence. In so doing, he interrogates the very notion of authorship. Germane, though of more academic interest, is Reynolds' discussion of Jean-Baptiste Louvet de Couvray's erotic novel Une Année de la Vie du Chevalier de Faublas (1787), its sequels, and its adaptations for the stage.
All in all, Reynolds delivers a virtuoso performance. Not least among his accomplishments for those unacquainted with Kessler is the introduction to this man who had everything: money, a title, culture, connections, vision, unflagging energy, a first-class mind. As was often said of Kessler, he knew everyone. Wherever he traveled, history seemed to unfold before him. He just happened, for instance, to be in Rome for the election of a new pope, tellingly evoked in his diaries—nine volumes of private notations a reader today may open just about anywhere and have trouble putting down. Kessler also published extensively. Among titles of his unmentioned by Reynolds are a vivid travelogue from Mexico and a glowing yet judicious biography of his friend Walter Rathenau, the liberal German industrialist and politician assassinated by right-wing terrorists. For all his other distinctions, Kessler was an unsparing judge of his own limitations. Yes, Kessler had the firm grasp of dramatic structure and mise en scène without which the Rosenkavalier libretto would have run aground—had Strauss accepted it at all. Conversely, Hofmannsthal's flair for flights of poetry, for officialese, for guttersnipe vulgarisms, all asparkle with grace notes not only in Wienerisch but also in the Romance tongues, lent the action a vitality, texture, and fragrance Kessler could but marvel at—to say nothing of the wind it put in the sails of the composer.
Reynolds himself merits a biographical note, too. Creating "Der Rosenkavalier," which appeared in 2016, originated in a doctoral thesis he undertook in retirement, after thirty years in the British diplomatic service and ten in business. His résumé lists in addition extensive credits not only as a writer but also as a singer and actor. With due respect to his scholarship and industry, a reader in a hurry (and who is not?) may complain that Reynolds circles back to key incidents and lesser ones more often than strictly justified. That said, his sentences are taut, he lays out a clear road map, and he does keep moving forward. When he revisits a scene, it's to dig deeper.