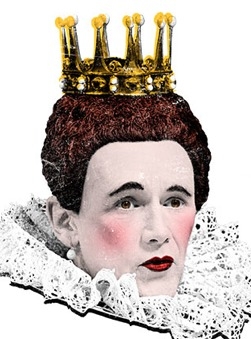 "Are you a comedian?" When the Olivia of Mark Rylance, who is a law unto himself, asked the question of Samuel Barnett's Viola in Twelfth Night last week, I thought he was tweaking the text. I have known the play since my teens, taught it at Harvard, and seen it over the decades in more productions than I can list. And the situation as such was thoroughly familiar. Intrigued by an importunate pageboy (in truth a shipwrecked maiden in disguise), Olivia speculates that he might be an actor. But a comedian? The transcendent Shakespeare's Globe production, now previewing on Broadway for a November 15 opening, mimics Elizabethan conventions, yet the twinkle in Rylance's eye gave the word a fizzy contemporary spin. Olivia was not asking whether "Cesario" played roles for a living. She was asking if his job was to tell jokes.
Reality check: according to the online concordance at OpenSource Shakespeare, the word comedian appears in Shakespeare just once. Here.
*
A few evenings later, in Julie Taymor's inaugural Midsummer Night's Dream for the new, permanent home of Theater for a New Audience, the Rude Mechanicals were discussing their forthcoming production of Pyramus and Thisby. "But there's a problem," one of them said. "that is, to bring the moonlight into a chamber; for,
you know, Pyramus and Thisby meet by moonlight."
A problem, forsooth? In Shakespeare?
Reality check: according to the online concordance at OpenSource Shakespeare, the word does not appear in Shakespeare at all. In the authentic text, the line in question begins, "But there is two hard things," the other being to bring a wall into the chamber.
By Matthew Gurewitsch | Tue, November 5, 2013 8:42 AM | Permalink
Some divas want to grab all the glory. Cecilia Bartoli tries to share, but she can't help herself. In her latest recording, as Norma, Vincenzo Bellini's errant Druid high priestess, she sings the music, as it were, in flaming colors, while the rest of the cast sings in black and white. The others show us their characters in two dimensions, while hers comes before us in the round. They play roles. She lives every moment.
From the start of her career, Bartoli has examined potential repertoire choices in light of exhaustive textual and historical scholarship. For her Norma, Maurizio Biondi and Riccardo Minasi have prepared a new critical edition, conducted here by Giovanni Antonini, with the period band Orchestra La Scintilla, longtime partners of Bartoli's, in the pit. Liner notes summarize the editors' findings, broadly consistent with our evolving understanding of bel canto in its time: voices were lighter, concert pitch was lower and so on.
We are reminded, too, that while the contemporary public thinks of Norma as a soprano role, the reigning Normas of Bellini's day were Giuditta Pasta (the first of them all) and Maria Malibran, who in ours would be classified as mezzo sopranos. Bartoli has consistently billed herself as a mezzo soprano even when skyrocketing past the top F of Mozart's Queen of the Night, and Norma's notes are easily within her compass. What gives her possession of the role is not her range but a mastery of her instrument and an imaginative spontaneity that never fail her. Best of all, she anchors the marmoreal rhetoric of Felice Romani's libretto in the visceral reality of the moment. For her, high style is second nature. It exceeds her power to fade into the background.
An illustration, if I may, from the first-act finale. Norma has just found out that Pollione, the Roman father of the two children she has borne in secret, has now worked his wiles on the junior priestess Adalgisa. In a first surge of emotion, Norma turns to Adalgisa, denouncing Pollione for the scoundrel he is ("Oh! Di qual sei tu vittima"). To have fallen into his clutches, Norma says, is a fate worse than death. Next Adalgisa picks up Norma's melody, expressing her bewilderment. The final reprise is Pollione's, as he attempts to save face ("Norma! De' tuoi rimproveri") against Norma's barrage of her ferocious interjections.
Three characters, three identical stanzas, three clashing points of view: the formal setup is thoroughly conventional, with analogues from before Handel to Verdi and beyond. But what is the purpose of the convention? At a mindless level, it never hurts to let the carousel take an extra spin; folks who tap their toes to the music will sit back and enjoy the ride as long as it lasts. Put another way, time stops as we zoom in for a series of close-ups; ideally, but this is a lot to ask, each stanza will quiver with the particular character's unique emotions.
In Bartoli's performance, the action neither goes in circles nor stops in its tracks. It keeps moving forward, steadily tracking the fever chart of Norma. And why is it that attention never drifts? In the beginning, of course, because Norma has the exciting new melody all to herself, but that is not all. If historic divas of renown have given Norma's opening stanza a charge of stern, icy fury, Bartoli has quite different ideas. Pacing herself at a breathless clip (though her singing is not breathless at all), she strikes a curiously wistful note. Compassion for Adalgisa's heartache is bleeding into Norma's own. In Adalgisa's stanza, which is often cut, Sumi Jo spins a silver thread of sheer cluelessness as Bartoli marks time in dark, muttered harmonies, gathering her forces. And when John Osborn's lyrical Pollione chimes in, Bartoli springs like a tigress. His protestations pale in the face of her blistering abuse.
Really: could Bellini have wanted it any other way?
By Matthew Gurewitsch | Fri, June 28, 2013 11:23 PM | Permalink
At the invitation of the Honolulu Star-Advertiser, I recently spent a solid week thinking and writing about the Maui Film Festival, a five-night extravaganza much the starrier for its principal screening room under the open sky. My brief was to report, not to review. Two stories were lined up for the newspaper's print edition. In addition, there were seven blog posts on honolulupulse.com, plus a flurry of tweeted notes and snaps @mg1228. Several filmmakers with plenty to say for themselves were on hand, as was the much-celebrated Jessica Chastain, recipient of the festival's Nova Award. Of 51 full-length and short features and documentaries, I attended three full-length features ("Middleton," Joss Whedon's "Much Ado About Nothing," "Short Term 12"), one full-length documentary ("More Than Honey"), one memorable short documentary ("Cavedigger"), and a clutch of shorts instantly forgotten. My brief was to report, not to review. Still, one sees things and has opinions.
Starting today, my reports, interviews, and commentary will be appearing here on beyondcriticism.com, spread (as originally) over the space of seven days. As circumstances dictate, introductory notes or afterthoughts may be added as we roll along.
By Matthew Gurewitsch | Wed, June 19, 2013 8:45 PM | Permalink
"Short Term 12″: It's a 10.
It never hurts to have friends in the house. The Maui Film Festival drew a good crowd at the Castle Theater for "Short Term 12" on Sunday at the awkward hour of 6 p.m.
In an introduction before the house lights went dark, Suki Halevi, director of development at Akaku Maui Community Television, mentioned that the filmmaker Destin Cretton, who was born and raised on the island, had also taken his first steps as a cameraman and producer with the station. No wonder then if a sizable cheering section gave him something very like a hero's welcome.
That was as nothing, though, to the ovation that followed the film. In lieu of an official Q-&-A, Cretton met with the public in the courtyard afterward. Viewers — by no means only old friends —crowded to ask questions, to thank him, to express their deeply stirred emotions.
"Short Term 12" takes place in an adolescent foster-care facility where staffers barely into their 20s with plenty of baggage of their own look after teenagers at high risk. "You're not here to be their therapist, you're not here to be their friend," says Grace, one of the supervisors, when a new guy joins the staff. "You're here to keep them safe." (Quoted from memory, with apologies in case of any slippage.)
Over the course of the action, Grace proves the best kind of friend to more than one shattered young person, but she needs friends, too, and the beauty of the story is that she finds them. Patience, generosity, humor, empathy, a trust in others as well as a willingness to shed one's own defensive armor: these are a few of the qualities it takes to perform the miracles we witness in this humane, quietly extraordinary film.
As screenwriter and director, Cretton knows his world from the inside out; he spent two years working in such a home himself. As noted in the festival program, his short film on the same topic won the Sundance Jury Prize in 2009. Here, as it were, is the Big Picture: It arrived on Maui crowned with both the Grand Jury and the Audience Award in the narrative-feature category from this year's South by Southwest Conferences and Festivals, but no theatrical-release date for Cretton's home state.
"Like us on Facebook!," Cretton urged well-wishers after the screening. "Our distributors need to know that people here want to see the movie."
Chivo Ching-Johnson, a producer at Akaku, remembers when Cretton first showed up at the station in the mid 1990s, eager to learn about filmmaking.
"He learned his basic skills here and got certified, which allowed him to take out equipment from our lending library," Ching-Johnson said earlier today. "I met him in church when he was still a kid, and we've remained close friends ever since.
"And you know, the neatest thing about Destin is that he has remained the most humble and low-key person I've ever known, completely unpretentious. He loves his craft. But what's at his core is ethics, kindness, and a sense of morality."
The film was shot in California, and in an overt sense nothing there is nothing remotely Hawaiian in it — no tropical color, no island music—yet in the big heart and the light touch, could it be the aloha spirit coming through?
On the evidence of "Short Term 12," Cretton has a golden touch in casting. Brie Larson, decorated with the festival's Rising Star award at the Celestial Cinema Sunday night and consequently unable to attend the screening of her own film at the Castle, is pitch-perfect, both strong and vulnerable, as Grace. But then, she is seasoned beyond her years.
John Gallagher Jr., who broke out in the HBO series "The Newsroom," is likewise pitch-perfect as the patient, undemanding father of her unborn child. Kaitlyn Dever, another young talent long accustomed to the camera, takes the breath away as the troubled Jayden; you will not forget her fable of the octopus and the shark.
But others without previous credits — Alex Calloway as the red-headed Sammy, who lies in bed for days gathering his forces for superhero escapes; Keith Stanfield as Marcus, on the brink of the grown-up world — are unforgettable, too.
According to the copywriter for the Maui Film Festival's online program notes, "The handheld camera work and unsentimental direction give the feeling that this is a documentary, not a drama."
I respectfully disagree. Absolutely nothing about the film felt "documentary" to me. Never was there a sense of the "reality" show, the hidden camera, the accidental, reductive epiphany ("Aha!") that just happened to turn up on film. It begins by indirection — one of Grace's colleagues breaks the ice with a newcomer by telling a particularly embarrassing story on himself — and for quite a while Cretton leaves it to the viewer to sort out where we might be going.
The characters enter obliquely, with their cares and their masks and their secrets. In time, the major players emerge from the background, but the lesser characters are people, too: there are no cartoons, no grotesques, no types. The arcs are clean and sure.
The incomparable Anton Chekhov told stories this way in prose and in plays. The incomparable Satyajit Ray told stories this way on film. It's the way of masters.
By Matthew Gurewitsch | Mon, June 17, 2013 10:01 PM | Permalink
Saturday, June 15, was Jessica Chastain's time to shine at the Celestial Cinema. (For the Maui Film Festival's tribute in prose, click here). Clips from "Zero Dark Thirty," "The Help," "The Tree of Life," and "Take Shelter" gave ample evidence of Chastain's emotional transparency, her fearlessness, and her range. A charming conversation with E! Entertainment's Marc Malkin followed.
The chemistry between them was palpable. He elicited stories she had evidently told him before, well worth sharing, such as the one about attending her first Oscar show with her grandmother.
"Seeing everything through her eyes, watching her watching me, that made the whole experience so much greater than the nomination itself," Chastain said.
Malkin's promise that he would get Chastain to sing went unfulfilled, however. And pro that she is, she kept mum about Chris Nolan's top-secret sci-fi project "Interstellar," revealing merely that the script had been hand-delivered to her by courier while she was on the set in remote Ireland, filming Strindberg's blistering classic "Miss Julie" with Ingmar Bergman's longtime muse Liv Ullman.
(The courier waited two hours while Chastain read, and then took the script back.)
Before the show, Chastain stopped in on the terrace at Gannon's to pose for photographers and take questions from local scribes. With her slender figure, her poise and her ponytail, she might have passed for one of the ballet students I used to see at Lincoln Center on their way to class at the School of American Ballet. In fact, she is an alumna of the drama division of the Juilliard School, a no-less-illustrious sister institution on the same campus.
From her conversation with a colleague, I overheard there's little time in her life for anything but acting.
"Is there anything but work?" she asked — adding the afterthought that she liked to cook and garden. Another scribe wanted to know if she was enjoying Maui, and she ticked off excursions on zipline and helicopter, as well as explorations around Hana.
As someone who for decades before moving to Hawaii followed Juilliard's drama classes closely, I was curious about the transition from school to the club of the legends of her profession: Al Pacino, for whom she played the title role of Oscar Wilde's dancing princess Salome, onstage and then in the movies; Vanessa Redgrave, her mother-in-law in the Ralph Fiennes film adaptation of Shakespeare's "Coriolanus"; and the perennial enfant terrible Peter Sellars in a poorly received touring show of Shakespeare's "Othello."
How intimidating was all that?
"Al Pacino really helped me, actually," Chastain replied. "I was really scared about how to work with the camera, and then got cast in the stage production of 'Salome.' That was comfortable for me. I had spent my life up to that point doing theater.
"Then Al decided to do the film, and I got to see how he changed from one medium to the other. That helped me bridge the great divide. It made it all more manageable."
Hollywood has a way of pushing serious actors into franchise movies, which is good for their bank accounts but seldom helps them to grow as artists. I wondered how Chastain viewed this dynamic.
"I'm open to a franchise project," she said. "To me, the choice is all about the character. I ask myself: Is this a role I've played before? What's difficult about franchise properties is that they want you to sign on for three movies. I have to see the scripts, I have to feel the connection.
"I've said that I'd love to be in a James Bond movie, or a Marvel movie. But it has to be really exciting. Something I've never done before. Something I can sink my teeth into."
(Later in the evening, Chastain told Malkin that she didn't want to be a "personality actor" before adding, "not that there's anything wrong with that.")
She has often said that she's not afraid of making mistakes. But what is a mistake when it's all about the journey?
"For me it's okay to make a mistake," she said, deflecting just a little. "I try to be gentle with myself. I try to put myself in position where I can fail. I try to take roles that are different from anything I've played, so that I'm going into uncharted territory. I don't know if I can do it!
"I'm easier on myself than perhaps I used to be. Because now I realize that whenever I do something that didn't quite hit the mark, I need to ask: What have I learned? How am I better for having done this?"
Last year, Chastain appeared on "Time" magazine's list of the world's 100 most influential people. The citation was written by non other than the actor Gary Oldman, a nonpareil chameleon. He called Chastain formidable, italicizing the word because he meant it to be understood in its French meaning, which he went on to gloss in eloquent detail.
I wondered, did she know him?
"That was insane," Chastain said. "I had met Gary on a red carpet at the Palm Beach festival, and he was so nice to me about my work. Afterwards I burst into tears. I was so shocked that he had seen it. I didn't realize he'd be writing about me until the text was online and someone showed it to me.
"It was a moment I'll always remember. I remember seeing his films ever since I wanted to be an actor. And Gary Oldman was the kind of actor I always wanted to be."
P.S. In her public conversation with Malkin, Chastain mentioned that she had always done poorly in school but that she had been a very imaginative child. Maybe those things help explain her determination never to repeat herself. Yet like great artists in other media (literature, the fine arts), great actors often have a kind of watermark that always shows through. Chastain's reel of clips suggested that hers is an oceanic reserve of barely contained emotion always on the verge of flooding over. The emotions vary (and sometimes we may not know what they are at all), but the fullness and intensity do not.
By Matthew Gurewitsch | Sat, June 15, 2013 9:55 PM | Permalink
Aloha from the lawn of the Wailea Beach Marriott Resort and Spa, where at 2:30 p.m. Saturday, June 14, the Maui Film Festival wrapped up four back-to-back filmmaker panels. I attended the sessions on short films, "sea changes" (challenges in the evolving world of movie making) and on maintaining a sense of fun. Attendance throughout hovered around 30 people.
After the panel on shorts, someone from the floor asked why don't we see more of them. Various answers were offered, most having to do with business models. It's more lucrative for movie theaters to show previews of coming attractions, right? Makes sense.
But isn't another factor that audiences don't go to a theater just to see a short subject, or even a program of shorts? Wouldn't the challenge really be to create demand for your particular product, rather than look for coattails to ride on? In the age of social networking, that job—like the job of making a film in the first place—should be getting a lot easier.
Smart pricing could help. Everyone knows that you can watch all the free stuff you want on YouTube, and some of it is pure gold. But who wants to sift through all the chaff? I would love it if I could break up a long day on my laptop with a quick movie. Offer me something that looks good for $2.99, and I'd click. How about an opt-in mailing list by filmmakers with short films on their hands? Send out your teasers and pray that you go viral.
It could happen for "Cavedigger," which screens at noon Sunday, June 16, Castle Theater. Directed by Jeffrey Karoff, the film documents outsider artist Ra Paulette, who makes caves on commission for sometimes-grouchy clients in northern New Mexico, who pay him at about $15 an hour. He does all the work the hard way. He makes what Karoff calls masterpieces, but more often than not, the customers call the whole thing off. Artistic differences.
Michelangelo took direction, one says, so why shouldn't this guy? But things could be looking up. Jeff Bezos, of Amazon.com, has taken an interest in Paulette. Watch, and be way ahead of the curve.
A sea change. Mary Lambert, the director of "Fishing Pono: Living in Harmony with the Sea," filmed on Molokai, opened her comments with musings on the phrase itself, reminding listeners that it comes from Ariel's mysterious song in "The Tempest," Shakespeare's sublime fable of guilt, loss, and forgiveness.
"It's a song about death and transformation," Lambert said. "And I wanted to make a film that would transform the way we look at the ocean, the way we think of resources and planet. Sounds bit ambitious, but that's what has to happen.
"We can't think of planet as an infinite place that can absorb all our trash and greenhouse gases and attacks by commercial fishing industry. So that's what I was trying to do! A few little things!"
When a film student asked how to get funding to get a project off the ground, Joseph Levy, who directed the food documentary "Spinning Plates," had this advice: "Don't start by asking for something. Go out and shoot on your own dime, and cut a three-minute trailer."
The final panel ran under the heading, "Had enough of 'Heavyosity'?" What the panelists share is a comic perspective on serious subjects.
"Comedy is a serious thing, and a painful thing to do," said the effervescent Mexican filmmaker Alaleine Cal y Mayor, whose Maui Film Festival entry is called "The Boy Who Smells Like Fish." "It takes sweat, tears, grey hair…"
The medical condition the film describes really exists. (It's called trimethylaminuria.) It's rare, and it's not dangerous to your health, but psychologically its effect can be devastating. According to Cal y Mayor, it often triggers suicide.
Her goal, she added, isn't to tell viewers what to think, who to like.
"The film is a comedy. It's about acceptance."
Josh Greenbaum, director of "The Short Game," spoke about the seven-year-old world-championship golfers who are the subject of his film.
"Seven-year-olds have a funny point of view," he said. Point and match.
A big theme of the evolving conversation was storytelling. What is storytelling today, anyway?, the moderator Rick Chatenever asked. The "Short Game" gang spoke of the built-in suspense of competition — "Who's gonna win?"
Thomas Wiewandt, director of "Desert Dreams: Celebrating Five Season in the Sonoran Desert," talked about what I would call implicit storytelling rather than imposed storytelling. For starters, he said that dominant modes of nature documentaries turn him off.
"Tooth-and-claw programming," he called it. "It's as if your story isn't violent and it isn't bloody, it isn't worth telling."
His objective, he said, was to tell the true story. You can't direct animals, he noted, but that didn't mean you never take them out of the natural environment, hoping they'll do what you know they do.
"I want to give people the feeling of seeing through the eyes of a child. Where no one is telling you what to think. You just go with it."
On the subject of unpredictability, Cal y Mayor had this to say: "I don't like surprises. I have my shot list ready a year and a half before. But when you're working with your actors, they bring new elements that make your work more rich. And I learned to embrace that."
And if you happened to be wondering about that word "heavyosity," Adam Rodgers, the director of the R-rated comedy "Middleton," identified it as a coinage of Woody Allen's, from "Annie Hall." (When Shelley Duvall said a concert was heavy, Allen asked whether it achieved … Fill in the blank.)
And if you happen to be wondering about that R-rating for "Middleton," Rodgers gave away the secret. Andy Garcia and Vera Farmiga, as parents accompanying their kids on a college-admission tour, go wandering off by themselves, find students smoking marijuana in a dorm room, and join them.
"So that got us an R. Same as 'Django Unchained.'"
*
P.S. Now that I've seen "Cavedigger," I recommend it highly. Wonderful story, wonderfully told, in arresting images.
One more thing. Adam Rodgers has weighed in with a correction. Scratch Shelley Duvall. The term "heavyosity" actually occurs when Annie (Diane Keaton) and Alvy (Woody Allen) discover a spider in her bathroom and are arguing who will kill it. All the same, Alvy's question does refer to a (rock) concert. Here it is in context:
ALVY
Hey, what is this? What? Did you go to a rock concert?
ANNIE
Yeah.
ALVY
Oh, yeah, really? Really? How-how'd you like it? Was it-was it, I mean, did it ... was it heavy? Did it achieve total heavy-ocity? Or was it, uh...
ANNIE
It was just great!
Now that that's off my chest...
By Matthew Gurewitsch | Fri, June 14, 2013 9:51 PM | Permalink
Fate is what trips us up while we chase our idle dreams. Ask Ryan Phillippe, executive producer and narrator of "Isolated," and Justin Le Pera, the film's director.
"Originally this was supposed to be a movie on feral surfers," Philippe said on Thursday, June 13, while on his way to their screening at the Celestial Cinema. "But then …"
Sorry to interrupt, but what's a feral surfer?
"These are surfers who aren't in it the sport for the glory," Philippe said, citing the elusive Travis Potter, one of the five "stars" of the movie. "They're in it to explore, for the adrenalin rush. They spend their life searching for the unridden wave.
"They started out with one objective that might seem superficial to a lot of people—but then it all shifted into a human-rights piece, when the surfers discovered genocide. They were searching for an epic wave and they found an epic struggle. And their selfish quest for the wave became a mission to get the word out, to help," he said.
That was the story that caught Philippe's attention.
The setting is West Papua New Guinea, about as far off the grid as it gets. In the eyes of developers, it's prime real-estate for future luxury destinations. Worse news for the natives, corporate prospectors have discovered gold and copper there.
"Filming was forbidden," said Philippe, who wasn't along on the shoot. "The surfers had to smuggle their equipment in, packed up with their surf boards. No one had ever filmed there before."
As Le Pera explains it, the bad guys are the heavily armed Indonesian military, fully funded by American capitalists. A "Heart of Darkness" for the pen of Joseph Conrad or Mario Vargas Llosa.
You may have heard that Potter et al. also ran into cannibals in West Papua New Guinea. Shaggy-dog alert? What I don't know about cannibalism would fill a bookshelf, but I've heard it said that as a way of life (as opposed to a last, desperate resort), cannibalism may be a fairy tale. One tribe at what you thought was the end of the line says the tribe across the mountain are savages who eat people. Then you go over the mountain, and the people there tell you no, no, we don't eat people. But the people over the next mountain — they eat people. And so on.
IT TURNS out that in crunching 400 hours of raw footage into 90 minutes, most of the fodder for the tabloids got lost.
"The sensationalism of it would have dispersed focus," Philippe said. "We're looking into the possibility of developing a scripted feature about those aspects. But in 'Isolated,' it would have cost us the heart and truth of what the story is."
Did the surfers find their wave?
"Yes," said Le Pera, "they found it."
And what he went on to describe sounded like "Avatar" or "Life of Pi," pure CGI. You've never seen a wave like this.
"It breaks on a shallow reef. When the tide is high, it's doesn't exist. And when the tide is low, the wave breaks in a circle."
Did they ride it?
"Yes," said Le Pera, "they rode it. And it didn't matter."
IF YOU haven't heard that Joss Whedon shot his movie of Shakespeare's "Much Ado About Nothing" in black and white at his home on a 12-day break from "The Avengers," you just haven't been paying attention.
On NPR, David Edelstein summed up his reaction in a word we don't hear a whole lot: Huzzah!
As for me, I loved the house. Also Nathan Fillion as the bumbling constable Dogberry, Sean Maher as the ice-cold villain Don John, and also, though a good deal less, Reed Diamond as Don John's classy big brother Don Pedro. And the shot of Fran Kranz as Claudio, the clueless male ingénue, in an infinity pool with a scuba mask, a snorkel, and a martini, used in the poster, is an instant classic. But.
Exiting the Castle Theater after the screening yesterday, I ran into two theater types who both rather liked it.
"Shakespeare wrote telenovelas," said J.J. Iuorno-Paladino, who started out in telenovelas in his native Buenos Aires. "This movie deconstructs the play as a telenovela for today."
The actor/director/designer Todd Van Amburgh, whose student productions at Seabury Hall never fail to put a fresh gloss on the classics, was happy, too.
"I was in the play years ago," he said, "so it's always fun for me to see it."
Not until I asked did he tell me that he played Benedick, the best male role in the show: the lover in spite of himself, constantly fencing with the equally love-shy Beatrice.
And there was another personal connection. Alex Denisof, the Benedick of the movie and to my eye very flat, was in a student production of Van Amburgh's years ago. The show was Pinter's "The Dumb Waiter."
What about the lighting, which more often than not overexposed the actors' faces in exterior shots and underexposed them in interior shots, making them either too light or too dark to see?
"I didn't notice that so much," Van Amburgh said. "I just enjoyed the contemporary setting and the actors and the courage they had to shoot it in black and white."
Like an old-time telenovela. Huzzah.
P.S. Since these comments were originally posted, I ran into my friend J.J. Iuorno-Paladino on the beach. He noted that his first professional experience was in the classics, in theater, not television. Unpacking the implications of his remark on telenovelas, he said that the plots were invariably about rich, famous people in exotic locations, a formula that also applies to much of Shakespeare. (Okay. ) That said, J.J. added that his experience with Shakespeare was minimal: a lesser role--he doesn't remember which one--in "Coriolanus" back in Buenos Aires when he was still in his teens.
By Matthew Gurewitsch | Fri, June 14, 2013 9:42 PM | Permalink
"No man is an island," wrote John Donne in 1624. While there's reasonable certainty he wasn't thinking of the movies, the thought resonates through the programming for this year's Maui Film Festival.
Every day brings offerings that build bridges from the remote Pacific mountaintops we call home to the great world beyond. What happens here matters out there, and what happens out there matters here.
That theme pervaded the opening program at the Celestial Cinema last night. The main attraction was "Hawaiian: The Legend of Eddie Aikau," a heartfelt tribute to the champion surfer and patron saint of lifeguards everywhere. At a reception before the show, the director Sam George noted Eddie's official log of 500 rescues comes to perhaps half the true number. (Not a single swimmer lost his life on Eddie's watch.)
But in 1978, barely into his 30′s, Eddie's own life was lost in the waves. What was to have been the Polynesian Voyaging Society's second voyage to Tahiti had hardly begun when the Hōkūle'a, the society's flagship canoe, capsized in high seas off Molokai. (Students of John Donne may be flashing back to A. E. Housman's classic elegy "To An Athlete Dying Young" right now, or even "Lycidas," John Milton's baroque lament for a friend drowned in the Irish Sea, under less heroic circumstances.)
George, at the time a vacationing surfer from California, remembers waving to the distant Hōkūle'a from his surfboard the day it set sail.
"So you could say it was fate that I got to continue Eddie's legacy," he said privately before the screening.
Nainoa Thompson, assistant to the master navigator Mau Piailug, was much closer to the tragedy. He was there when Eddie headed out into the waves to get help for his struggling crewmates. Before the screening, Thompson paid tribute to Eddie, recalling Eddie's poor vision.
"He was paddling off to an island he couldn't see," Thompson said, adding that he lives with the guilt and shame of Eddie's loss every day.
But I wonder — could anyone have stopped him? Surely the best way to honor Eddie's memory is to keep voyaging, to keep spreading the word.
We caught a glimpse of the Polynesian Voyaging Society's great enterprise in the six-minute short,"Hōkūle'a's Worldwide Voyage: Island Wisdom, Ocean Connections, Global Lessons." On camera, Thompson calls the Polynesian seafarers "the astronauts of our ancestors."
Under his direction, navigators of a new generation are now preparing to sail the Hōkūle'a on a 46,000-mile, 38-month circumnavigation of the globe, beginning in May 2014. Their intention, as Thompson states in the clip, is "to honor, celebrate, and strengthen all cultures on the planet by respecting them." Cultures and languages are being lost around the world every day, he notes, but a renaissance like the one unfolding now in Hawaii is unique.
Mindful of the misfortune at the outset of the very first of the Hōkūle'a's latter-day odysseys and voyages of the Beagle, I wondered about safety precautions in the age of the GPS.
"Safety is our priority," Thompson answered. "We've examined 16 risk factors, in consultation with the Navy, the Coast Guard, the National Weather Service. Otherwise we wouldn't do what we're doing.
"Within the Pacific, the Hōkūle'a has already sailed the equivalent of six voyages around the earth at the equator. So in the Pacific, we'll be sailing the traditional way, without instruments. The Indian Ocean is a different story. The Indian Ocean has two hurricane seasons, five monsoon seasons, and the highest incidence of piracy in the world.
"In the Indian Ocean, the objective is just to get across, using whatever techniques we need to make the trip quick and safe. And we'll have pilots aboard who know," he said.
Later, Thompson added from the stage: "We're not going to change the world by taking this voyage. But we're going to create a network of people who will."
No man is an island.
BEFORE WE move on, don't look for "Hawaiian: The Legend of Eddie Aikau" at your local cineplex. The film will air on ESPN beginning in October. (It will be number 47 or 48 in the network's "30 for 30" series, originally planned as 30 documentaries in honor of their 30th anniversary.) Anticipated viewership far exceeds what could be hoped for in a theatrical release. So will that mean a handsome royalty stream for Sam George?
"Nope," he said. "There's no money in this."
Looking ahead, today's "Sine Qua Non: The Psychology of Wave Surfing with Greg Long," Friday's "Big Sur" and Saturday's "Desert Dreams: Celebrating Five Seasons in the Sonoran Desert" all strike various chords a local audience will find appealing, even as they sound themes of broader appeal.
And then there's "Isolated," filmed in West Papua New Guinea.
"Like 'Endless Summer' with cannibals," the brochure promises, not to mention teasers about military violence and human-rights violations. Ryan Philippe ("Gosford Park," "Flags of Our Fathers") narrates. ¡Venceremos! Bon appétit!
Right now, though, the film I'm looking forward to most of all is "More Than Honey," screening today, Colony collapse in the bee world, and in America in particular, has been making global headlines. (Some scientists tell us that the extinction of the bee would not actually spell extinction for humans, but ask yourself: what kind of a world would this be without apples, oranges, chocolate, and coffee?
Yet it seems there is more to the story than gloom and doom. The director Markus Imhoof circled the globe four times to collect the footage for his 90-minute documentary, which promises state-of-the-art close-ups of bees in flight and in their hives. According to Emil Lynch of Maui's Best Honey, whose hives festival visitors whiz by every evening on the mauka side of Piilani Highway, 30 to 50% of all queen bees exported to devastated mainland farms come from the islands of Maui and Kauai.
Buzz! No bee is an island. John Donne had it right.
*
Addendum, June 27, 2013: Since this text was posted on honolulupulse.com, I learned of "Hawaiki Rising: Hōkūleʻa, Nainoa Thompson, and the Hawaiian Renaissance," a new book by Sam Low, a Harvard-trained anthropologist who has been on the crew for several voyages of the Hōkūleʻa and has written about it extensively. A first impression suggests that the material will richly reward a close and thougtful reading.
And I'd like to add a few words on "More Than Honey." I was hooked from the opening sequence, which shows an old-timer in the Swiss Alps axing a swarm of bees from a tree branch and collecting them in a wooden box. (Having grown up in Switzerland, I was overcome by nostalgia at the visuals and even more by the sound of the man's countrified Swiss dialect.) Historic images document the family business in its glory days (watch for the bee palace, like a chalet for a grand duke). Later we hear from itinerant beekeepers who service American agribusiness, as well as from Chinese farmers, in the wake of Mao's demented extermination of the sparrows who eat the grain, now must pollinate their orchards by hand. The closing episode deals with bee cultivation in Australia, the only continent uninfested by mites that are ravinging colonies throughout the rest of the world. The goal is to foster genetic diversity, a noble experiment fraught with the risk of unanticipated consequences. For safety's sake the "experimental" populations are confined to islands off the coast of Australia, too far from the mainland to migrate back on their own. Science? Science fiction? Ours is indeed a brave new world.
By Matthew Gurewitsch | Thu, June 13, 2013 9:37 PM | Permalink
Had the chief — Maui Film Festival founder Barry Rivers — on the line the other day. First off, we talked about the well-publicized fact that he personally winnows down roughly 1,000 submissions to put together a program of some 50 features and shorts.
"Let's put it this way," he said. "I've seen portions of 1,000 films and many hundreds in their entirety. I look at every movie first before I give it to anyone else, separating the coal from the diamonds, or the potential diamonds.
"I do value other opinions, but it's easiest to look at everything myself first. A lot of work isn't going to make the cut, so I don't bother anyone with that. And sometimes I'm on the fence.
"The most challenging thing is remembering that I'm not programming for me. I'm programming for the public," he said.
I noted there never seemed to be any shortage of movies with a significant Hawaiian connection, whether it be documentary, historical, or narrative.
"That's important," Rivers said. "If a festival can't serve it's community, who is it serving? Some film festivals are markets. Cannes is a market. Toronto, Sundance, Berlin. Past those, how many markets does one world need?
"I want to be inspiring, enlightening, with some laughs, with some topics people haven't seen handled before. We're feeling good about the mix."
STUDYING THE program, I thought I saw a real split between programming for the castle-likeCastle Theater at the Maui Arts & Cultural Center (which has daytime screenings, sometimes pitifully attended) and the crowd-pleasing Celestial Cinema, with its picnic-ground atmosphere (though under county regulations, no outside food or drink may be carried in).
"It's become that way," Rivers agreed. "Studios like to see their films at the Castle, and we're happy to accommodate them. The Castle is a showcase, an art house. At the Celestial Cinema we show more independent DNA. We're casting a wider net.
"That said, we're talking about niche films. We don't show films that are going to open on 3,000+ screens. We've got content that can do very well on 400 screens. The Celestial Cinema is a perfect place to start some buzz. Trevor Groth, the director of programming at Sundance, said from the stage that the Celestial Cinema is the most amazing place to launch a movie he's seen anywhere. Smaller filmmakers are thrilled to make a splash here that they'd be challenged to pay for."
In a Q&A with the Hollywood Reportertwo years ago, Rivers told the great story of Clint Eastwood coming to the festival, parking his car in the public parking lot, boarding the shuttle, and setting up his chair on the lawn just like anybody else. Does he have a story to top that?
"There are lots of stories," Rivers said, "and some of them I can't tell. Let me just say this. I made a commitment in the beginning: to have the festival be about something, not about nothing.
"We invite luminaries, not celebrities — really good people. Getting to meet them is icing on the cake. And we respect their privacy. We share very little about what they've done while they're out here."
In that same Q&A, Rivers said that the principal challenge for any presenter was fundraising. How much does he need to raise a year?
"We don't talk money too much," said Rivers. "Let me just say it costs of seven figures to mount the festival. I'm that odd bird who feels there's a place for privacy in a company that's a small business. I will say that we spend 20 cents on the dollar compared to mainland events we'd like to think are in our same category. That's a source of great pride—and also something I'm trying to change!
"It would be wonderful to be able to pay everyone what they're worth. People do what they do because they love to participate in something that enlightens and entertains the Maui community. And we have the support of lots of wonderful local companies. They step up. Always have, since the beginning. Still do."
ON TUESDAY, June 11, word leaked that Kirsten Dunst — announced as this year's winner of the Pathfinder Award for "eclectic choices and charismatic performances" that "encourage us all to expand out definition of what it means to be human" — would be a no-show.
That was good news for chocoholics who had been wondering how to juggle the presentation with the $150-a-pop "Taste of Chocolate" blowout at the Four Seasons.
"We show as many great films as we can," Rivers said without apology. "People have to make choices."
In parting, I wondered how many movies Rivers sees when it's not festival-selection time (if it's ever not festival-selection time).
"I go to a lot of good movies over the course of a year," he said. "I'm drawn to more thoughtful work: independent films, foreign films, not the tentpole, popcorn stuff. I don't just go to whatever happens to be coming out this Friday."
By Matthew Gurewitsch | Wed, June 12, 2013 9:27 PM | Permalink
Would Eddie stay for "Islands of Sanctuary"? I'm guessing he would, definitely.
Spoken-word and cinematic tributes to Hawaiian legends Eddie Aikau and Nainoa Thompson get top billing at the Maui Film Festival's "Celestial Cinema" in Wailea tomorrow night, but it would be a mistake to skip out before the late show.
In the world-premiere sneak preview of "Islands of Sanctuary," filmmaker Christopher McLeod turns his lens on movements by indigenous peoples of Australia and Hawaii to reclaim sovereignty over ancestral lands, in the process reaffirming spiritual connections.
The Hawaiian segment — funded in part by Pacific Islanders In Communications, a national nonprofit media arts organization based in Honolulu — focuses on healing the island of Kaho'olawe after decades of bombardment by the U.S. military. In the Australian segment, the rape of the land takes the form of zinc-mining beneath the bed of the McArthur River, known to the Aboriginal people of the Northern Territory as the Rainbow Serpent.
These episodes constitute the final hour of the eight-part documentary "Standing on Sacred Ground." Seven years in the making and coming soon on PBS, the series covers parallel cultural revivals from Ethiopia to Peru, from Canada to Papua New Guinea.
In all these places, modern history has for centuries been riding roughshod over cosmologies, belief systems, and ways of life going back to the dawn of time. Much ancient wisdom has been lost, yet priceless clues survive, in language, in customs, in chants.
"Over the past 20 or 30 years people all over the world have been fighting battles that are not really connected," McLeod said. "Our objective is to show the universality of these struggles. Our eight stories are tied together by the common thread of people trying to protect their sacred places."
Every native community that has been dispossessed in the past has a struggle to bring back traditional knowledge, because it was damaged by design. Languages were banned. Elders and knowledge holders have been murdered. Movements have been splintered, and land that was the basis of everything has been taken away.
"Today, land management from the indigenous point of view has both physical and spiritual implications," said McLeod. "Ceremonies are integral to the protection of the land. If you look at the world today with climate change, extinction of species, contamination of water, people are realizing that we have an unsustainable, extractive culture that's in need of refinement before it's too late.
"I feel that indigenous cultures have preserved a view of nature that contains the values that are missing. We're living a myth of abundance. Native peoples have always respected the limits."
AND ONE MORE thing: It's no secret that food looms large — very large — at the Maui Film Festival. That being the case, it seems only fitting that one of the first screenings is of Joseph Levy's documentary "Spinning Plates" (4:00 p.m. Wednesday, June 12, at Castle Theater, Maui Arts & Cultural Center).
The subject is restaurants. Alinea, in Chicago, is a temple of the extreme culinary wizardry known as molecular cuisine. (Please, please check out the website.)
Breitbach's Country Dining, in Balltown, Iowa (pop. 70), distinguishes itself as, in Levy's word, "the living, beating heart of a town," not to mention as a destination in its own right. (It seats 400, and can serve 2,000 patrons a day.)
And then there's La Cocina de Gabby, a mom-and-pop Mexican eatery in Tucson, hanging on by the sheer grit of the owners. (Truth to tell, the one or two Yelp reviewers who have been heard fromhave not been kind.)
"'Spinning Plates' is an emotional film about food and love and family," Levy said. "Since 'Jiro Dreams of Sushi,' distributors have appreciated how hot a culinary film can be."
And is Levy a chef himself?
"Not professionally trained," he replied, "but I do love to cook. When I started, I would try the most complicated Charlie Trotter recipes. Now it's more family-style.
"If I were cooking tonight? I'd serve Chicken Milanese and roasted potatoes, something like that. And a liquid-center chocolate cake for dessert."
By Matthew Gurewitsch | Tue, June 11, 2013 9:21 PM | Permalink