"Wer stört mir den Schlaf?" (Who troubles my sleep?) Awakened by the Wanderer's calls, the unseen Fafner refuses to budge from his cave, but at the sound of basso Eric Halfvarson's voice, the entire auditorium takes on a sunset glow. In the mind's eye, he looms like a mountain. But when at last he bounces into view, the dragon we see—on strings, like a puppet, in a gold top hat, puffing a plutocrat's cigar—is no larger than a baby crocodile: a new toy for Siegfried, who falls to his knees in boyish delight. Siegfried, for his part, is part Tarzan, part Little Prince. He ties his yellow hair in tufts that stand straight up. He wears shaggy trousers of teddybear skin. His face is chalk white, with pencilled eyebrows arched high in permanent amazement. His bare blue torso rivals California governor Arnold Schwarzenegger's.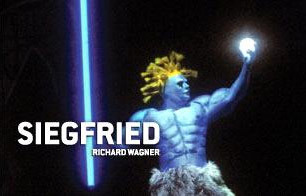 The adventure continues. Theatrically, part 3 of Achim Freyer's Los Angeles Ring—the first mounting of Wagner's epic in the city's history—continues along the route brilliantly prefigured in last season's Rheingold and Walküre, but not without taking some startling new turns. The barrage of visual stimuli is never-ending. Video projections are in constant use. A company of mimes is in perpetual though often slow motion, whether as stagehands or as spectral embodiments of passing time. Confusing as it all may sound, the flow of images is so artfully controlled as to focus and sharpen the eye rather than to overwhelm it.
Like Wagner, Freyer—once again functioning both as director and designer —is a master of subliminal association, anticipation, and reminiscence, but he paints (as it were) with a broader brush. The leitmotifs in the score flicker by in an instant, pinpointing exact cross references. By contrast, Freyer's visual allusions linger in view for minutes at a time, or even for hours, allowing their meanings to sink in consciousness in a very different way. Yet Freyer's story-telling is never out of step with Wagner's, even where he takes a kind of liberty. Thus, while Wagner seems to have forgotten all about Fricka in Siegfried, Freyer brings are onstage as a mute witness to the Wanderer's final conference with Erda. And it makes perfect sense. Fricka is Wotan's guilty conscience, pushed to the shadows but never really gone.
Musically, Siegfried advances the Los Angeles Ring by a quantum leap. Following in the footsteps of Karajan, James Conlon seeks the transparency of chamber music, even when the orchestra is playing full tilt, as in the finale of Act 1 (which sounded underpowered, perhaps out of consideration for the singers) and in the prelude of Act 3 (which came off with tremendous majesty). Lyrical interludes—the Forest Murmurs, particularly—simply glistened.
As Siegfried, John Treleaven had the luxury of singing great swathes of his part conversationally, which suited him better than the stentorian mode of the final scene. As the awakening Brünnhilde, Linda Watson delivered power and authority troubled here and there by a squally high note. Vitalij Kowaljow's first Wanderer went far beyond the promise of his first Wotans last season: the round, smooth bass sound has a new richness, the delivery a new nobility and sense of nuance. Moreover, the singer has gained in endurance. Graham Clark's seasoned Mime remains a masterly portrayal in every regard.
Onward to Götterdämmerung in April and the complete Ring in May and June.