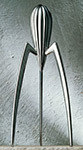 Form, function, fashion: armor of the "Maximilian" type fuses all three in perfect harmony. An instant modernist icon four-plus centuries avant la lettre, the Maximilian is as wickedly sleek, harmonious and self-sufficient as the museum-worthy Juicy Salif, Philippe Starck's lemon squeezer for Alessi, which it nearly resembles. The only apparently decorative touch is the fluting on the closed helmet, torso, arms (complete with metal mittens), and legs to just below the knee. It is thought that this detailing was meant to evoke the pleats which were then the height of fashion.
Much as masons in the Gothic period carved stone to like wood, armorers pushed their skills to the utmost to mimic in metal court dress made of soft materials. How those pleats were produced is a matter for speculation. Perhaps the basic shapes were raised by beating them in from the underside of the plate and then chiseled on the top side to give the exterior its clean, elegant finish.
From the purely utilitarian point of view, the pleats had a more important advantage. Fluting creates "ribs," lending the metal extra strength. A Maximilian ensemble could be thinner, hence lighter and cheaper, than previous models. Likewise worth noting are the broad-toed metal shoes: a clue that this was armor for infantry. The soldier in Maximilian armor looked more a lot more like Dorothy's Tin Woodman than like Lancelot du Lac. More specifically, he was a Landsknecht, or pike man, in a regiment of mercenaries founded by the Holy Roman Emperor Maximilian I early in the 16th century.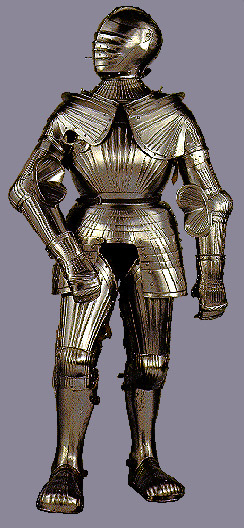 Maximilian was of the ancient House of Hapsburg, and his ancestors had been players in continental Europe for centuries. He, however, established them as the top dogs they were to remain for the centuries to come, notably by matrimonial politics. "Alii bella gerant," the famous saying went, "tu, felix Austria, nube": Let others wage war—thou, happy Austria, marry! (It got to the point that alliances were contracted between babes yet unborn.) A progressive patron of natural sciences and of such artists as the matchless Albrecht Dürer, Maximilian likewise had a romantically retro, deeply medievalist streak. He envisioned Western Europe united, as in the empire of Charlemagne. In his mind's eye, he was the last knight of the age of chivalry. He found time to pen an allegorical self-portrait called "Weisskunig" (The White King), as well as a secret treatise on hunting, though not the Latin autobiography that was on his agenda.
The suit of armor that bears his name is a piece of industrial design, more in the nature of a none-too-exalted uniform than fancy dress. It would be an expert eye indeed that could make fine discriminations between extant examples. The Landeszeughaus (or regional armory) in Graz, capital of the Austrian federal province of Styria, owns eight, seven of them inventoried in 1577. One of the eight can be attributed securely to the armorer Hans Maystetter, whose mark appears on the left pauldron, or shoulder plate. That "signature" lends the piece a sort of distinction, but in a case of mass production, the anonymous object may actually possess higher Platonic status. Such a one, polished to a mirror brlliance, was a centerpiece of the show "Arms and Armor from Imperial Austria," on view at the Cleveland Museum of Art last year.
Once upon a time, American museum patrons thought of galleries of arms and armor chiefly as places to park restless lads to daydream of knighthood. (Today, there is stiff competition on their laptops, in the form of "Assassin's Creed.") Eleven years ago, "Heroic Armor of the Italian Renaissance: Filippo Negroli and His Contemporaries," at the Metropolitan Museum of Art, taught us to concentrate on pure aesthetics. Here surface embellishment trumped any defensive function. Filippo, greatest of a whole dynasty of Negrolis, perfected the dazzling art of embossed armor all' antica, crawling with dragons and lions, emblazoned with the staring head of Medusa, entwined in foliage that coalesce in fantastic rhapsodies on heroic themes. In Filippo's hands, steel plate became the support for a graphic imagination of the highest order, in particular in the creation of so-called parade armor, which was worn not for protection but for show on state occasions. The eye-appeal of such fashion statements is irresistible. The no-frills Maximilian has a very different beauty.
As noted, the example on view in Cleveland came from the armory in Graz. The Holy Roman Empire invested in such structures as enthusiastically as our country has lately in prisons, but few have survived the centuries, as this one has done. The original building still houses some 30,000 pieces of armor and weaponry, supposedly enough to outfit an army of 5,000, and while the collection makes a fine display, it is warehoused the old-fashioned way, as materiel. The Cleveland galleries aspired to something more like showmanship, contextualizing the 200 loans from Graz with art objects. Maximilian's immediate successor was seen, bareheaded but otherwise fully armed, in the Rubens "Allegory on Charles V as Ruler of the World," from the Residenzgalerie in Salzburg. Quite a coup, landing that Rubens from a collection that has no others. Much more thrilling, though, was Cleveland's own "Hunting Near Hartenfeld," by Lucas Cranach the Elder. In the woodlands on either side of a torrent in view of a castle, dozens of lords and ladies, attended by squires and a lusty pack of assorted canines, are ranged against deer and bear that are putting up a beastly fight. Seldom has violence seemed so festive, or festivity so ruthlessly a matter of life and death.
Among the other objects in the Cleveland show were inlaid firearms of rare refinement, as well as a tent and battle drum—going on five centuries old—that felt steeped in shamanistic magic simply by virtue of still existing, fit for use. But viewers schooled on Negroli gravitated to a black-and-white three-quarter armor for a nobleman by the Austrian Michael Witz the Younger, signed with a sharply struck W above the wearer's left clavicle. The swirling leaf pattern conveys both pomp and dignity, and is big enough to read at a distance. Subsumed into the design are also the heads of fantastic animals of perplexing ambiguity. Are those red-mouthed creatures on the shoulders a sort of lion or a sort of griffin?
The Witz was by a wide margin the most glamorous piece in the show, a work of art and a masterpiece in its own right. Yet the world it belongs to seemed lost forever. The glistening Maximilian has a future. Tomorrow has yet to catch up.